The TCT Show takes place September 30 through October 1, 2015 in Birmingham, United Kingdom.
CHICAGO, Sept. 29, 2015 -- Sciaky, Inc., a subsidiary of Phillips Service Industries, Inc. (PSI) and leading provider of metal additive manufacturing (AM) solutions, announced today that it will highlight its new Electron Beam Additive Manufacturing (EBAM) systems and expansive AM services the TCT Show.

The expanded lineup of EBAM 3D printing systems includes new options for medium, large, and extra-large part applications, making EBAM the most widely scalable metal 3D printing solution on the market (in terms of work envelope) for parts ranging from 203 mm (8 inches) to 5.79 meters (19 feet) in length. EBAM is also the fastest deposition process in the metal 3D printing market, with gross deposition rates ranging from 3.18 to 9.07 kg (7 to 20 lbs.) of metal per hour. Plus, with a dual wirefeed option, you can combine two different metal alloys into a single melt pool to create "custom alloy" parts or ingots. In addition, you can change the mixture ratio of the two materials to create "graded" parts or structures.
Sciaky's EBAM technology utilizes wire feedstock, which is available in materials such as titanium, tantalum, niobium, tungsten, molybdenum, Inconel, aluminum, stainless steels, nickel alloys, and more.
"Sciaky is excited to exhibit at the TCT Show," said Mike Riesen, general manager of Sciaky, Inc. "Our new EBAM metal 3D printing systems and world-class Additive Manufacturing services provide a wide variety of options for manufacturers around the world to save significant time and money on the production of metal parts and prototypes."
The TCT Show takes place September 30 through October 1, 2015 in Birmingham, United Kingdom. Sciaky will be exhibiting in H31. For more information about the event, visit www.tctshow.com.
For more information on Sciaky, visit www.sciaky.com. You can also follow Sciaky on Twitter, Facebook, Google+, YouTube and LinkedIn.
About Sciaky, Inc.
Sciaky, Inc., a subsidiary of Phillips Service Industries, is a world leader in metal 3D printing solutions. Our exclusive Electron Beam Additive Manufacturing (EBAM) process is the fastest, most cost-effective 3D printing process in the market for large-scale metal parts, allowing manufacturers to save significant time and money over traditional manufacturing and prototyping processes. Sciaky also provides industry-leading electron beam and advanced arc welding systems, as well as affordable job shop welding services, for the aerospace, defense, automotive, healthcare and other manufacturing industries. Our welding equipment meets rigid military specifications to manufacture items such as airframes, landing gear, jet engines, guided missiles and vehicle parts.
About Phillips Service Industries, Inc. (www.psi-online.com)
Established in 1967, Phillips Service Industries, Inc. (PSI) is a privately-held global manufacturing and services holding company, which oversees a diverse collection of innovative subsidiaries: Beaver Aerospace & Defense, Inc., Evana Automation Specialists, Mountain Secure Systems, POWERTHRU, PSI Repair Services, Inc., PSI Semicon Services, Sciaky, Inc., and Skytronics, Inc. We serve a wide range of high-tech industries like aerospace, defense, automotive, alternative energy, healthcare, security and semiconductor. Our award-winning products and services help reduce costs and maximize efficiency for many Fortune 500 companies around the globe, as well as the U.S. Military. We push the boundaries of technology on critical programs like Homeland Security, Defense research and space exploration, delivering innovative solutions for land, sea, air and space. We're PSI: Always innovating. Everywhere.
Featured Product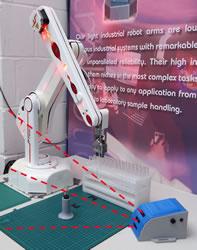 ST Robotics have decades of experience in industrial robots having sold hundreds of robots over the years. The company has 3 main models, R12, R17 and R19 all using a unique simple industrial technology that dramatically reduces costs resulting in the lowest priced industrial robots available. The same uncomplicated technology vastly improves reliability. ST backs this up with a 2 year warranty. Typical applications are routine testing, sample handling and also education. The software is a different paradigm from most robots. It is command based; you type a command and see immediate action. Programming is a building block approach, building confidence as you program in small 'mind-sized bytes'. ST offers free unlimited technical support.