-- European Craftsmanship, High Quality and Ease of Use for Entry and Mid-level Market --
DALLAS and PRAGUE, Sept. 30, 2015 -- be3D, a Y Soft company, and the company revolutionizing the entry and mid-level 3D printer market, today announced new functionality of DeeGreen, an affordable, tabletop 3D printer for rapid prototyping. Now certified for operation worldwide, DeeGreen, with its European craftsmanship, high quality and ease-of-use, is ideally suited for designers, hobbyists and educational institutions.

Designed With the User in Mind
3D print object integrity and ease of operation was paramount in the design of DeeGreen. With magnetic panel and door closures, auto stop features, auto-bed calibration and a two click-to-print interface, DeeGreen puts the focus on 3D object creation and not on a steep learning curve for 3D printer operation.
"With DeeGreen, we feel we have created an affordable, high quality, 3D print device that meets the needs for rapid prototyping and creating objects for educational purposes," said David Miklas, CEO, be3D. "The worldwide availability of DeeGreen is a major step for us in contributing to 3D printing innovation."
New DeeControl Software
DeeControl software is be3D's proprietary control software that adds layering and other information to a 3D model file developed from any of the popular modeling software programs. With this new software file and a direct connection from a computer to DeeGreen or by SD card, the 3D print is ready to begin.
According to 3D trend watch site, 3Dhubs.com, rapid prototyping remains the number one category of 3D print use. With its PLA (Polylactic acid) filament and easy to use filament loader, students, hobbyists and designers are able to go from concept to creation quickly using DeeGreen.
Certification
DeeGreen has undergone rigorous electronic and environmental testing to ensure safe operation and has received CE, FCC and EAC certifications among others.
Pricing and Availability
The MSRP of DeeGreen is $1,890.00 (USD) and includes a one-year warranty, the DeeControl software, power and USB cables, filament holder, a memory card, and cleaning tools. be3D also provides PLA filaments for DeeGreen in a variety of colors. DeeGreen is available through a network of global distributors and resellers. Visit the be3D website for more information.
About be3D
be3D, a Y Soft Company, is revolutionizing the entry and mid-level 3D printing market. The company offers two advanced 3D printer models, DeeGreen and DeeRed, designed to satisfy even the most demanding of customers. Headquartered in the Czech Republic, be3D has representation in Europe, North and South America, Australia, Japan and the United Arab Emirates. In 2014, Y Soft invested a majority stake in be3D.
Featured Product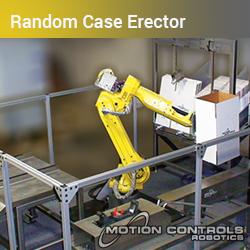 Random Case Erectors are ideal for fulfillment centers and other end-of-line packaging needs. Save money by eliminating changeover downtime. Reduce ergonomic injuries by eliminating repetitive manual tasks. The Random Robotic Case Erector System includes: • FANUC M20iA/20 Robot • Combi gravity case magazine - holds 2 box sizes • Combi bottom flap folder with integrated 3M case sealing head. • Fixed robot base, anchored to the floor • Flexible end of arm tool to pick and erect multiple case sizes to eliminate changeover downtime • System wiring and controls • Color 7.5" touchscreen HMI display for selecting case size • Perimeter guarding with safety interlocks on doors • Programming for Robot, PLC/PMC, HMI and Vision • Complete documentation in electronic format • On-site training and support • Compliance with all applicable robotic safety standards. Alternate safety configuration may be available to allow an operator to changeover a case size in one magazine while the robot continues to work in other magazines. Contact Motion Controls Robotics to learn more about how to implement this system into your current end-of-line operations.