Joey Hall of Somerset, KY receives a custom F-150 XLT Crew Cab truck for his commitment to professional achievement, safety and community service
October 6, 2015 (Lincolnshire, IL) - Klein Tools (http://www.kleintools.com), for professionals since 1857, announced Joey Hall as the grand prize winner of the 2015 Electrician of the Year award. Joey Hall of Somerset, Kentucky was selected from nearly 600 applicants and is recognized for his professional achievement, his company's dedication to safety and contributions to his local community. He received a customized 2015 Ford F-150 XLT Crew Cab built by Addictive Desert Designs.

"I'm so thankful to Klein Tools for this honor," said Joey Hall, Klein Tools' Electrician of the Year. "I didn't even know my son nominated me until I was named the regional winner. To be named Electrician of the Year is something I never thought would happen. I'm lucky to be able to share this experience with my family and also Klein Tools. I can't wait to drive to work every day in this truck."
Joey owns and operates Diamond Electric in Somerset and has been an electrician for more than 35 years. His company has a near-spotless safety record and he encourages all employees to actively attend continuing education classes as well as first-aid trainings. In his community, Joey volunteers with the local little league and helped to build a brand new baseball facility. Joey also leads a team in painting the high school football field for every home game, and in church he provides food, clothes and health screenings to people in the area.
"Joey Hall embodies what the Electrician of the Year contest is all about," said Mark Klein, president of Klein Tools. "He is known as a responsible, caring and committed professional, and it's very clear his employees, customers and friends value the impact he has on the community."
All six finalists were flown to San Francisco and honored during a special Klein Tools event on October 5th. During the event, the regional winners were awarded Klein Tools' Ultimate Garage Package including a 41-piece Klein Journeyman Tool Set, a mini-refrigerator, golf bag, bar stools, can insulators, beverage opener tools, and peg board to hold and display tools.
Featured Product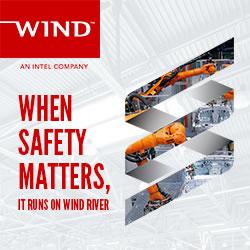 When it comes to ensuring the development of can't-fail systems, Wind River® is a leader with a proven track record of success. With more than 30 years of experience in embedded software and a portfolio of products deployed across more than 2 billion devices, Wind River delivers safety and security when it counts most. From industrial automation to automotive systems, as well as in healthcare devices, railway operations, and throughout the aerospace and defense sector, Wind River has extensive expertise providing built-in safety for complex, connected, safety-critical systems.