Featuring excellent optical design and an advanced electronic design
Banner Engineering announces its next-generation S18-2 compact photoelectric sensor series is now available in fixed-field background suppression mode configurations. The compact, self-contained sensors provide up to six detection ranges from 30 to 200 mm to satisfy diverse cost-sensitive and high-volume applications.

Featuring excellent optical design and an advanced electronic design, Banner's S18-2 background suppression sensors are resistant to fluorescent light and offer a high level of crosstalk avoidance. With a small, bright red LED emitter beam, S18-2 sensors are easy to align to the target, and ensure very small shifts in the detection range caused by target color variation.
"The S18-2 optics are factory calibrated to one of six sensing ranges between 30 and 200 mm to ensure consistent sensing performance," said Dennis Smith, Senior Technical Marketing Manager for Sensors at Banner Engineering. "Machine builders can count on stable and robust detection with no risk of machine down time related to sensor adjustment. For customers requiring a range not in our catalog, Banner is able to quickly produce customer required fixed range sensors perfectly matched to a machine designer's requirements in a short time."
For ease of use, S18-2 sensors feature a highly visible output, and dual-function power and stability indicators. The indicators are comprised of one green and two yellow LED lights. Solid green indicates power is applied and the sensor is ready, while green flashing specifies a marginal sensing signal. The two bright yellow LEDs, visible from both sides of the sensor, indicate the output is conducting.
Designed with a rugged ABS plastic housing, S18-2 sensors are well sealed against water ingress. A wide operating temperature range of -40 to +70 degrees Celsius ensures optimal performance for diverse applications.
For more information on the S18-2 fixed-field photoelectric sensors, visit our website.
About Banner. Banner Engineering is a world-leading manufacturer of photoelectric and ultrasonic sensors, indicator lights, vision sensors and vision lighting, electronic machine safeguarding systems, wireless networks, fiber optic assemblies and precision measurement systems.
Featured Product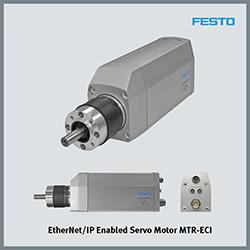 Mechatronic Motion Solutions from Festo is a unique system of components, modules, and software. It integrates all types of pneumatic, servopneumatic and (electro)mechanical automation motion and combines them according to your task. Irrespective of the control system environment you use, Mechatronic Motion Solutions always provides the appropriate interfaces. The fingers can be actively moved and their strength amplified; the operator's hand movements are registered and transmitted to the robotic hand in real time. The objectives are to enhance the strength and endurance of the human hand, to extend humans' scope of action and to secure them an independent lifestyle even at an advanced age.