The Advanced Manufacturing Technology Show is Shaping the Future of the Industry
West Chester, OH - August 2015 - KC Robotics, Inc. is pleased to announce participation at the Advanced Manufacturing Technology Show (AMTS), Ohio's premier advanced manufacturing and technology-specific trade show. KC Robotics will be exhibiting at booth #711. AMTS is held at the Dayton Airport Expo Center from October 21-22, 2015.

KC Robotics' booth at AMTS 2015 will feature its advanced manufacturing technology; with a fully programmed welding cell that includes high speed laser touch sense adaptive welding. At this year's AMTS, KC Robotics will reveal for the first time a cell from its new series of KCR Systems called the RW 200. KC Robotics will also have robotic experts on deck to discuss why KC Robotics robots, engineers, and technicians are what your manufacturing plant needs to succeed.
Exhibits are open from Wednesday, October 21 (9 a.m. to 7 p.m.), through Thursday, October 22 (9 a.m. to 5 p.m.). Admission is FREE for attendees who pre-register online, or $10 at the door. The show provides opportunities for attendees to learn and witness new trends, solutions, equipment, technologies, and potential suppliers within their industry. This year is packed with unbeatable networking opportunities, with a revamped floorplan featuring upscale concessions, bar and lounge areas, and exciting seminars right on the show floor. To learn more about the show, visit www.DaytonAMTS.com.
About KC Robotics, Inc.
KC Robotics, Inc. specializes in robotic automation services for machine loading, welding and material handling applications. KC Robotics, Inc. also provides engineering services and support to existing robot installations as well as preventative maintenance and emergency robot service. KC Robotics is an authorized integrator for KUKA, Yaskawa Motoman, and Kawasaki robots, and is located in West Chester, Ohio. More information can be found at www.kcrobotics.com
About the Advanced Manufacturing Technology Show
The Advanced Manufacturing Technology Show (AMTS) is produced by the Dayton Region Manufacturers Association (DRMA). Visit www.DaytonAMTS.com and www.DaytonRMA.org to learn more about the DRMA and their upcoming event.
Featured Product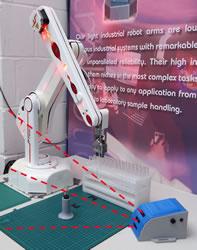 ST Robotics have decades of experience in industrial robots having sold hundreds of robots over the years. The company has 3 main models, R12, R17 and R19 all using a unique simple industrial technology that dramatically reduces costs resulting in the lowest priced industrial robots available. The same uncomplicated technology vastly improves reliability. ST backs this up with a 2 year warranty. Typical applications are routine testing, sample handling and also education. The software is a different paradigm from most robots. It is command based; you type a command and see immediate action. Programming is a building block approach, building confidence as you program in small 'mind-sized bytes'. ST offers free unlimited technical support.