The ProDrone Byrd was built for everyone - folding up and easily fitting in any backpack to be taken everywhere
NEW YORK, Oct. 22, 2015 -- ProDrone, the leading consumer drone manufacturer focusing on power and portability, today announced the official launch of the Byrd - immediately available for purchase at www.prodrone-tech.com. The new product will be showcased at PhotoPlus at the Javits Convention Center from October 22-24 at booth #767.

Byrd is a very powerful product (max take off up to 3.8kg) that offers an entirely new perspective on consumer drones, complete portability. It is the world's first drone to fold up into a convenient (iPad) sized package which will easily fit into a backpack; while packing remarkable power, enticing design and practical utilities. It has been ruthlessly tested in the world's harshest climates to guarantee unconditional quality. The meticulously designed modular payload system allows users to quickly swap out gimbal/camera combinations which enables users to capture and share those spectacular moments with unbounded variety and truly vivid detail (not to mention unprecedented ease for first responders and firefighters).
Product Features:
* First fully collapsible package
* Absolute reliability
* Longer flight time (30 minutes)
* Modular gimbal/camera options provide easily swappable combinations
* Camera options include 4K, 1080, infrared and GoPro
* Multi-controller option allows for easy teaching and sharing of a single UAV
* Screen sharing on up to five devices
* Follow me technology
* Advanced interior positioning (sonar and downward facing camera)
* HD Transmission
* Comprehensive safety features
"From the beginning, we set out to solve the biggest problems with consumer drones today - lack of easy portability and swappable camera design," stated Joseph Haagensen, PR Manager for ProDrone. "The power, durability and portability of this device is a game changer -- when you add in the modularity of the gimbal/camera combinations, it will change the industry. Our drones will put all new power into the hands of outdoor enthusiasts and adventurers"
At launch, the retail price for the standard version which ships with a ProDrone HD camera and gimbal is $949.00. The advanced version that ships with a GoPro ready gimbal is $1059.00 and the premium version with a 4K camera and gimbal is $1399.00.
About ProDrone
ProDrone Technology Company is a fresh, innovative and forward thinking take on the contemporary UAV industry. We fully focus on the comprehensive research, development, design and production of unmanned aerial vehicles and we strive to not only offer concierge style customer service, but a truly fascinating flying experience.
Our young, enthusiastic and energetic team are committed to the cause and we aim to push the boundaries of UAV technology by harmonizing state-of-the-art production with avant-garde industrial design. Our first-rate UAV technology can be utilized across a multitude of different platforms which will change the way consumers interact with drones. Without sacrificing performance, we have managed to create an extremely portable drone which can be folded down into a backpack friendly iPad sized package.
Featured Product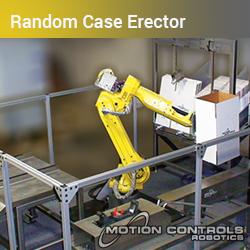 Random Case Erectors are ideal for fulfillment centers and other end-of-line packaging needs. Save money by eliminating changeover downtime. Reduce ergonomic injuries by eliminating repetitive manual tasks. The Random Robotic Case Erector System includes: • FANUC M20iA/20 Robot • Combi gravity case magazine - holds 2 box sizes • Combi bottom flap folder with integrated 3M case sealing head. • Fixed robot base, anchored to the floor • Flexible end of arm tool to pick and erect multiple case sizes to eliminate changeover downtime • System wiring and controls • Color 7.5" touchscreen HMI display for selecting case size • Perimeter guarding with safety interlocks on doors • Programming for Robot, PLC/PMC, HMI and Vision • Complete documentation in electronic format • On-site training and support • Compliance with all applicable robotic safety standards. Alternate safety configuration may be available to allow an operator to changeover a case size in one magazine while the robot continues to work in other magazines. Contact Motion Controls Robotics to learn more about how to implement this system into your current end-of-line operations.