Former Space Station Command and Control Lead Engineer Joins as Chief Product Officer
DENVER, Oct. 22, 2015 -- Gamma 2 Robotics (www.gamma2robotics.com), makers of the world's first artificially intelligent security robots, announced today that it has elevated both its industry profile and commercial potential with the hire of new Chief Product Officer Francis Govers. Francis has a demonstrated track record of success in evolving disruptive robotics theories to productive field (or space) use. He will be responsible for building upon Gamma 2 Robotics' established autonomous robot platform, efficiently realizing a polished end product available for widespread security industry application.

Francis Govers has designed over 20 robots for land, sea, air and space, and has been involved in every phase of robot research, design, development, test, production and deployment. As the deputy Chief Engineer for the US Army's Future Combat Systems Unmanned Vehicles, he led the design of the Armed Robotic Vehicle (ARV), ARV-RSTA, the MULE, MULE Countermine, MULE ARV-Light, and iRobot SUGV (Small Unmanned Ground Vehicle) and a number of UAVs.
As Chief Engineer for Elbit Systems of America, Francis designed the Beagle CBRN robot and the Archer hybrid electric vehicle. He was a participant in the first DARPA (Defense Advanced Research Projects Agency) Grand Challenge, and was a leader of the DARPA EATR (Energetically Autonomous Tactical Robot) program.
He was notably the Lead Engineer for Command and Control for the International Space Station. Among other significant roles Francis was Hardware Engineer on the Shuttle Mission Simulator, Director of the Advanced Simulation Laboratory, Project Manager of Flight Simulation for the F-35 Joint Strike Fighter and Professor at the Unmanned Vehicle University.
A US Air Force Veteran, Francis is a regular contributor to GIZMAG and Robot Magazine, on the editorial board of the International Journal of Unmanned Systems Engineering and co-author of the book, "Introduction to Unmanned Vehicle Systems".
"I am happiest at the cutting edge of robotics, and am thrilled to see our founders' incredible vision to ultimate fruition - providing the security industry the autonomous robotics solution it sorely needs and has loudly demanded," stated new CPO Francis Govers.
Followed Gamma 2 Robotics President and CEO Lew Pincus, "Francis is among the true elite of modern robotics design and development; the value of his addition to our company cannot be understated. His decision to join Gamma 2 Robotics is perhaps the highest form of market validation, and he has already charted the course to convert this complex process to mainstream product."
About Gamma 2 Robotics, Inc. (www.gamma2robotics.com)
Denver based Gamma 2 Robotics produces intelligent and autonomous robots. After more than three years of development, it has engineered a transformational technology in commercial guarding -- the "Cybernetic Brain" provides artificial intelligence that enables robots to operate autonomously and without manual supervision or remote control. The company's robots can detect and immediately report on intruders, fire, smoke, toxic gases, suspicious new objects and more. It is the only such product commercially available.
Featured Product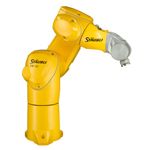 Stäubli offers a complete range of robotic tool changing systems for payloads of 20 kg to 1,530 kg and torsion moments from 30 to 12,500 Nm, designed for use in virtually every industry. The tool changers adapt to customer-specific applications with different modules for media, data, power, etc. The new MPS 130 robotic tool changer is powerful, very robust, and designed for a huge range of applications. It features multiple couplings for air/vacuum connections, and can be equipped with connectors for data and electrical transmission. Very compact dimensions, with a coupled height of only 67 mm, make the MPS 130 the first choice for applications requiring a high number of mating cycles.