Company announces the immediate availability of its automated sewing system
ATLANTA, Oct. 26, 2015 -- SoftWear Automation Inc., developer of fully automated sewing technologies, today announced the launch of its LOWRY line of advanced sewing robots. Built around patented machine vision, robotics and computing technologies, the LOWRY system automates the transfer and sewing of fabric, eliminating the need for trained seamstresses. The company is taking and fulfilling orders for custom LOWRY systems, and has deployed numerous systems in production environments in the southeastern U.S.

SoftWear's LOWRY is a lightweight, four axis robot used in fabric handling, pick & place operations and direct sewing. The system dramatically reduces labor costs, production time and manufacturing errors. It is an affordable solution that fully integrates with existing cutters, fabric transfers and sewing machines, and can run on a continuous basis. LOWRY leverages a high speed vision system to precisely track and prevent distortion of fabric - giving the robot a much higher level of precision and accuracy than its human counterparts.
SoftWear's robots can be used across all types of sewn product manufacturing - everything from home goods to shoes and clothing. LOWRY is available in Gantry and Cantilever styles.
"Although LOWRY is being used by home goods manufactures, we are also seeing strong interest from the apparel industry," said K.P. Reddy, CEO of SoftWear. "Our 'sewbots' can revolutionize the design, development and customization of apparel in the same way 3D printing has transformed the design, prototyping and production of durable goods."
LOWRY systems are immediately available from SoftWear. Interested parties should contact the company at (844) 673-7134 or sales@softwearinc.com.
About SoftWear Automation Inc.
SoftWear Automation is an Atlanta, Ga. based company with the sole focus of developing innovative core technologies and products for the apparel manufacturing and sewn products industries by harnessing its experience and expertise in machine vision, robotics, and computing. SoftWear expects its technology will lead the conversion of labor-intensive industries to ones that are capital intensive and economical. For more information on the company, visit www.softwearautomation.com.
Featured Product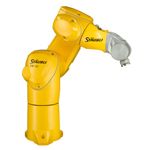 TX2 series of robots: the next generation of fast and precise 6-axis robots. This new robot range is redefining performance with the optimum balance of speed, rigidity, size and envelope. Those pioneer robots can be used in all areas, including sensitive and restrictive environments thanks to their unique features. Known worldwide for the quality of our design and innovation for more than a century, the Stäubli Group has brought its renowned engineering expertise and technological ingenuity to the forefront of robotics. Since 1982, we have built a highly regarded robotics business, and more significantly, transformed the way thousands of manufacturing operations perform. Today Stäubli Robotics is a leading player in robotics around the world, consistently delivering engineering as effective and reliable as our service and support.