Botvac Connected Available at Amazon, Best Buy and Enjoy
NEWARK, Calif.--Neato's highly anticipated Botvac Connected robot vacuum is now available at Amazon, Best Buy and the innovative new retailer Enjoy. Botvac Connected, the smartest and best cleaning robot vacuum Neato has ever built, features Wi-Fi connectivity, advanced navigation and superior cleaning performance.

Enjoy is a new retail partner that will send, without charge, a personal expert to hand-deliver and set up a Botvac Connected right in the buyers' home in as little as four hours after purchase. Available for purchase and delivery now in the San Francisco Bay Area and New York City, Botvac Connected can be found at Enjoy.
When connected to a Wi-Fi network, Botvac Connected lets users vacuum their homes right from their iOS or Android device no matter where they are - an especially valuable benefit when unexpected guests are on their way. Users can also use their smart phone as a remote control device, directing the robot's cleaning path when connected to a home network. With two different cleaning modes, long lasting Lithium Ion battery and iconic D shape designed for cleaning corners and close to edges and walls, Botvac Connected delivers superior cleaning performance for $699.
Neato robot vacuums have long been acclaimed for their sophisticated navigation, which allows the robots to clean in methodical, back and forth patterns instead of bumping around a room like round robot vacuums. Using SLAM technology - best known for its use in the Google self-driving car - Neato robot vacuums use laser sensors and advanced technology to avoid obstacles, move from room to room and return to their charging bases to recharge before returning to the exact spot it left off.
Neato also kicked off its holiday marketing campaign with entertaining online videos highlighting how Neato can take care of the messy situations humans often create. Called "Neato Knows," the full suite of ads can be found here.
About Neato Robotics
Neato Robotics creates robots smart enough to perform household chores as intelligently and efficiently as a human. Neato products improve consumers' lives, allowing them to spend less time cleaning and more time with family and friends. Neato is driving innovation with intelligent navigation, smart home connectivity and superior cleaning technologies. For more information, visit: https://www.neatorobotics.com/
Featured Product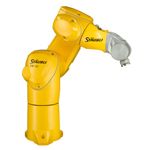 TX2 series of robots: the next generation of fast and precise 6-axis robots. This new robot range is redefining performance with the optimum balance of speed, rigidity, size and envelope. Those pioneer robots can be used in all areas, including sensitive and restrictive environments thanks to their unique features. Known worldwide for the quality of our design and innovation for more than a century, the Stäubli Group has brought its renowned engineering expertise and technological ingenuity to the forefront of robotics. Since 1982, we have built a highly regarded robotics business, and more significantly, transformed the way thousands of manufacturing operations perform. Today Stäubli Robotics is a leading player in robotics around the world, consistently delivering engineering as effective and reliable as our service and support.