- Addition of Leading Provider of Intelligent Robots to Strengthen Industrial Automation Business -
October 23, 2015 Chicago, U.S. - OMRON Corporation (President: Yoshihito Yamada [TSE: 6645]) ("OMRON"), a global leader in the field of automation based on its core sensing and control technology, today announced it has completed its acquisition of Adept Technology, Inc. ("Adept"), a global, leading provider of intelligent robots, autonomous mobile robot solutions and services.

Under the terms of the previously announced transaction, OMRON's U.S. subsidiary is acquiring Adept through an all cash tender offer followed by a second-step merger. The tender offer commenced on September 23, 2015 and expired at 5:00 p.m. New York City time on October 22, 2015. Approximately 83.32% of all issued and outstanding shares of Adept common stock were tendered into the offer and accepted for purchase by OMRON's United States subsidiary.
Effective today, OMRON's United States subsidiary completed the second-step merger, making Adept a consolidated subsidiary of OMRON.
The impact of the acquisition on the consolidated financial performance of OMRON will be the subject of timely disclosure in Japan.
Featured Product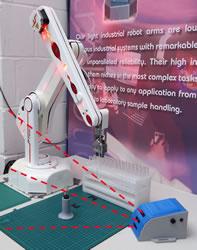 The 6-axis version of the R17HS high speed variant of the R17 robot is now available. As is our policy the 6th axis is an optional bolt-on module. At the same time we have made it even faster and new software eliminates shake and greatly improves repeatability as this video shows. Please see https://www.youtube.com/watch?v=3wG0MeiJ-yE. The video would seem to imply a repeatability of 0.01mm but we are sticking with 0.2mm in the spec. The motor specialist was able to tune the motors from the other side of the pond. My first reaction when we put power on and entered the first commands was to jump back in amazement (and maybe an expletive). Tip speed is now 3m/s; that's 3 times as fast as its nearest competitor yet costs half the price. I love it when a plan comes together.