The 1st Line Of Remote Controlled, Electric Powered Construction Equipment
--November 2nd, 2015, Oakland, CA--Cooper Gray Robotics LLC, an Oakland, California based company, (www.robotloader.com) is please to announce the introduction of ROEBL (remote operated, electric bucket loader, aka bobcat, aka skid steer), the lead offering in the first line of remote controlled, electric powered construction equipment.

As the world confronts the increasingly dramatic consequences of global warming, alternative fueled vehicles take on added importance. Now there is a sustainable alternative to diesel as we are learning "clean diesel" is essentially a misnomer. CGR addresses this concern directly by creating equipment that sacrifices nothing in terms or performance--ROEBL can do everything a diesel-powered skid steer can do and more—while completely eliminating tail pipe emissions.
CGR's skid steer solves two of the industry's major problems. For years manufacturers have focused on driver safety. CGR reduces operator risk to zero by taking the driver off the vehicle. And our electric drive train solves another industry wide problem—how to operate in close quarters where pollution can be dangerous—doing away with the tail pipe allows CGR's skid steer to function nearly anywhere.
According to co-inventor and CTO Justin Gray, "The proprietary controller that is at the heart of the CGR product line scales up to work with larger construction equipment that will be battery powered in the near future. This is the direction of the industry and we are proud to be leading the next wave."
CGR launched a fundraising campaign on Fundable.com today, November 2nd. www.fundable.com/cooper-gray-robotics
CGR sees a bright future for its skid steers on farms, construction sites, and hazardous environments across America and beyond. Finally there is something new in construction equipment: Cooper Gray Robotics has it.
Featured Product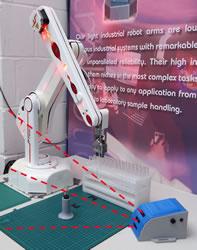 ST Robotics have decades of experience in industrial robots having sold hundreds of robots over the years. The company has 3 main models, R12, R17 and R19 all using a unique simple industrial technology that dramatically reduces costs resulting in the lowest priced industrial robots available. The same uncomplicated technology vastly improves reliability. ST backs this up with a 2 year warranty. Typical applications are routine testing, sample handling and also education. The software is a different paradigm from most robots. It is command based; you type a command and see immediate action. Programming is a building block approach, building confidence as you program in small 'mind-sized bytes'. ST offers free unlimited technical support.