A range of high-strength, reliable solutions from plastics expert igus on display at FABTECH 2015 in Chicago
East Providence, RI November 03, 2015 -- At the upcoming 2015 FABTECH trade show, November 9-11 at Chicago's McCormick Place, motion plastics specialist igus will have a wide range of products and solutions for the fabricating and metalworking industries. A number of cables and cable carriers, as well as a selection of high-strength plastic bearings will be exhibited in booth N19103.

On display
At the show, igus will demonstrate a number of their industrial solutions, including their innovative Triflex R multi-axis cable carrier, along with optional retraction system, in action on an industrial robotic arm. Triflex R's unique design allows for flexible movements on robotic arm systems, while providing excellent protection for cables and hoses. The Triflex RSE retraction system integrates igus' DryLin linear guide systems to create a lightweight and cost effective retraction system for robotic cable packages.
High-strength Energy Chain cable carriers will also be on display at the show, along with samples and product information. igus E-Chains are able to withstand high temperatures and forces, and offer resistance to dirt, debris, and chemicals.
Also in the igus booth will be a selection of dry-tech self-lubricating bearing solutions, including iglide PRT slewing ring bearings, DryLin linear slide tables, and range of barstock material options available for prototyping or creating custom bearings.
About igus
igus develops industry-leading Energy Chain cable carriers, Chainflex Motion Cables, DryLin linear bearings and linear guides, iglide plastic bushings, and igubal spherical bearings. These seemingly unrelated products are linked together through a belief in making functionally advanced, yet affordable plastic components and assemblies. With plastic bearing experience since 1964, cable carrier experience since 1971 and Motion Cables since 1989, igus provides the right solution from over 100,000 products available from stock. No minimum order required. For more information, contact igus at 1-800-521-2747 or visit http://www.igus.com.
Featured Product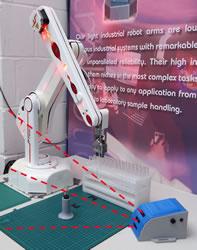 ST Robotics have decades of experience in industrial robots having sold hundreds of robots over the years. The company has 3 main models, R12, R17 and R19 all using a unique simple industrial technology that dramatically reduces costs resulting in the lowest priced industrial robots available. The same uncomplicated technology vastly improves reliability. ST backs this up with a 2 year warranty. Typical applications are routine testing, sample handling and also education. The software is a different paradigm from most robots. It is command based; you type a command and see immediate action. Programming is a building block approach, building confidence as you program in small 'mind-sized bytes'. ST offers free unlimited technical support.