RF System Lab to attend North America's Largest metal forming, fabricating, welding, and finishing event. VJ-Advance Video Borescope on display at FABTECH 2015.
Traverse City, MI November 04, 2015 -- FABTECH, North America's largest metal forming, fabricating, welding, and finishing event, is the next destination for RF System Lab and the VJ-Advance (VJ-ADV) Video Borescope. Being held November 9-12, 2015 the event will draw tens of thousands to the McCormick Place in Chicago, IL to learn about the newest advancements in the industry. With a combination program of education, networking, and technology features, it showcases something for everyone.

RF System Lab is proud to join FABTECH for the second time in 2015. Senior Sales Consultant Casey O'Tool will be on site showcasing the VJ-ADV Fully Articulating Video Borescope. Available in 2.8, 3.9, or 6.9mm diameters, there is a VJ-ADV for every fabrication, welding, and metal forming remote visual inspection need. Free hands-on demonstrations will allow attendees to see how easy the joystick-controlled articulation is to control, and how comfortable to pistol grip design is to work with.
Those unable to attend FABTECH can still try the VJ-ADV through RF System Lab's no-obligation, no-cost demo program. Customers can try the VJ-Advance at their facility without a sales rep looking over their shoulder. Go to http://www.rfsystemlab.us to learn more about the free, no-hassle Demo Program.
Featured Product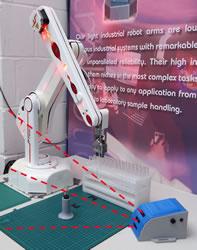 ST Robotics have decades of experience in industrial robots having sold hundreds of robots over the years. The company has 3 main models, R12, R17 and R19 all using a unique simple industrial technology that dramatically reduces costs resulting in the lowest priced industrial robots available. The same uncomplicated technology vastly improves reliability. ST backs this up with a 2 year warranty. Typical applications are routine testing, sample handling and also education. The software is a different paradigm from most robots. It is command based; you type a command and see immediate action. Programming is a building block approach, building confidence as you program in small 'mind-sized bytes'. ST offers free unlimited technical support.