The new events will incorporate 3D Printshow
Trade show organizer, Tarsus Group, will run two new B2B events for the additive manufacturing industry (commonly referred to as 3D printing) in 2016. Additive Manufacturing Europe and Additive Manufacturing Americas will focus on the fastest growing vertical sectors - healthcare, aerospace and automotive. Tarsus already runs several shows in these sectors, the most prominent of which are the Dubai Airshow (aerospace), AAITF (automotive) and A4M (medical).

The new events will incorporate 3D Printshow, which Tarsus acquired in 2014. This follows exhibitor requests for larger, consolidated events with an international business-to-business focus.
As part of the new shows, there will also be a 3D Printshow pavilion, focusing on design and prototyping. This will continue to attract the designers and innovators that are driving development and innovation in the industry.
While much of the growing media coverage of additive technologies has focused on abstract concepts or very niche usage, the Additive Manufacturing Shows will focus on the mainstream applications that are revolutionizing these sectors. Additive manufacturing can produce complex, customized solutions that increase functionality, while reducing lead time and waste.
The entire spectrum of 3D printing and additive manufacturing equipment will be on show, with live demonstrations of working machinery a cornerstone of the events. Conferences will run alongside the trade shows, with dedicated streams for the vertical sectors.
Additive Manufacturing Europe will be held on 28-30 June 2016, at RAI Amsterdam. This will then be followed by Additive Manufacturing Americas on 7-9 December 2016 at the Pasadena Convention Center.
Lisa Milburn, Managing Director, commented: "Additive manufacturing is an exciting growth area and recent developments in equipment and software are providing plenty of opportunities for real world applications. 3D Printshow has been the leader in dedicated 3D printing events and, combined with Tarsus's experience of running large, industrial shows around the world, we look forward to working with our partners to deliver the largest events for this sector."
Featured Product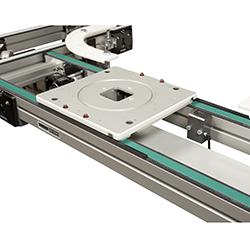 Dorner's 2200 Series Precision Move Pallet Systems feature the latest advancements in pallet traffic management. A unique pin tracking system guides pallets through merges and curves while maintaining product orientation. The fast belt change capability increases efficiency and reduces downtime in assembly automation processes. They are available in lengths up to 25 ft., can handle loads up to 500 lbs. and travel at speeds up to 114 ft/min.