December 14-16, 2015 in San Diego, California
NEW YORK, Nov. 30, 2015 -- MecklerMedia Corporation (OTCQX: MECK) announced that more than 80 international speakers will deliver sessions at the RoboUniverse Conference & Expo in San Diego, taking place at the San Diego Convention Center on December 14-16, 2015.

Launched in New York City in May 2015, RoboUniverse is the first global conference and trade show series dedicated to advancing the Service Robotics industry.
Mega trends and advancements in mobility, manipulation, vision, perception, cognitive computing combined with cloud technologies, and an ever-increasing connected world (IoT) are accelerating the advancement of robotic systems for business, manufacturing, education, healthcare, and consumer applications.
"As the industry's premier service robotics trade show, RoboUniverse showcases practical robot solutions and innovation trends across industries that improve the way people work, learn, and live," said Richard Erb, Executive Director, RoboUniverse.
MecklerMedia also announced that the mayor of San Diego, Kevin Faulconer, will make an appearance at RoboUniverse San Diego, addressing the crowd on December 15 at 1:30pm.
Sessions at RoboUniverse San Diego will explore innovation in agriculture, cognitive science, drones, manufacturing & logistics, business & investment, STEM education, IoT, healthcare, and more.
Keynote speakers for RoboUniverse San Diego include:
* Chris Anderson, CEO, 3D Robotics
* Charles Bergan, Vice President of Engineering, Qualcomm, Inc.
* Dr. Cynthia Breazeal, Founder and Chief Scientist, Jibo
* Albert P. Pisano, PhD, Dean of the Jacobs School of Engineering, University of California, San Diego
* Mel Torrie, M.S., CEO and Founder, Autonomous Solutions, Inc.
To see the full agenda for RoboUniverse San Diego, visit robouniverse.com/san-diego.
MecklerMedia also announced the EZDrone Crash Course, a series of drone training sessions lead by Sean Daniels, CEO & Founder, EZDrone. The sessions will feature active audience involvement and flying instruction using multiple drone types. The EZDrone Crash Course trainings are offered complimentary to all RoboUniverse San Diego registrants and will take place in the Drone Zone located in the RoboUniverse expo hall.
Prices to attend RoboUniverse San Diego increase on December 2, so register before to save with early bird pricing. For more information and to register for RoboUniverse San Diego, visit robouniverse.com/san-diego.
If your company is interested in sponsoring or exhibiting at RoboUniverse San Diego or an upcoming event, please contact robouniverse.sponsors@mecklermedia.com.
About MecklerMedia
MecklerMedia (OTCQX: MECK) is the leading producer of global trade shows, conferences, and digital publications covering 3D printing, robotics, virtual reality, and bitcoin/blockchain. MecklerMedia produces more than 25 global trade shows annually, including Inside 3D Printing, Blockchain Agenda with Inside Bitcoins, RoboUniverse, 3D Print Design Show, and the Virtual Reality Summit. MecklerMedia's news sites include Blockchain Agenda with Inside Bitcoins, 3DPrint.com, and 3D Printing Industry, which provide up-to-date coverage to help drive business forward.
Featured Product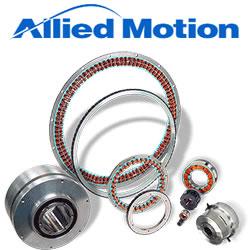 Allied Motion's Megaflux MFH170i series of 170 mm (6.7 in) diameter housed brushless torque motors consists of a high performance brushless DC torque motor, a digital servo drive, and an optical encoder, all integrated into a rugged machined aluminum housing with robust duplex bearings. The MFH0170i series features a 63.5 mm (2.5 in) large-bore through shaft, and is characterized by a very high torque-to-inertia ratio. There are three stack lengths in the series with peak torque ranging from 8.5 up to 16.9 Nm (75 up to 150 lb-in). The standard winding voltage is 48 V. And to ease the hassle of long leadtimes for prototypes, the new MFH170i is now available through our QuickShip program.