There are many advantages to using the PWG-plus gripper
The PWG-plus is compact and robust due to the oval piston drive, the strong aluminum housing, and the almost wear-free T-bar drive. Depending on the application, it can also be equipped with an ID/OD spring safety device. Numerous accessories are available, including inductive proximity sensors and magnetic sensors.

The PWG-plus gripper jaws and gripper mounting holes are capable of mounting directly to certain SCHUNK compensation units, attachment valves, and quick-change jaw systems.
There are many advantages to using the PWG-plus gripper, including the design of outrigger workpiece supports due to threaded connections and centering sleeve options. There are also a variety of gripper sizes and gripping torques.
About SCHUNK:
SCHUNK is the worldwide competence leader for clamping technology and gripping systems. Totaling more than 60 years of experience, SCHUNK is a family owned operation and a global player in one. For more information, visit www.schunk.com
Featured Product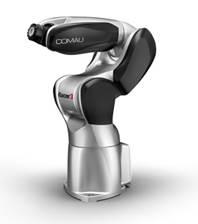 Racer3 is a powerful, high-speed, 6-axis articulated robot featuring a payload of 3kg and a reach of just 630 mm. Built from high-strength aluminum, the newest innovation in Comau robotics is lightweight and can be easily mounted on benches, walls, ceilings or on inclined supports. The third robot within the award-winning Racer family, Racer3 is Comau's response to the growing demand for fast, cost-effective robotic automation within small to medium-sized enterprises and emerging countries. Racer3 is intended for general industry use to increase productivity and reduce overall costs by automating industrial applications. It combines field-proven technology and enhanced dexterity with a keen focus on safety, design and product aesthetics. With a streamlined design and brushed metal exterior, the new powerhouse of a robot combines beauty and speed together with absolute precision and repeatability. Primary applications include assembly, material handling, machine tending, dispensing and pick & place.