There are many advantages to using the PWG-plus gripper
The PWG-plus is compact and robust due to the oval piston drive, the strong aluminum housing, and the almost wear-free T-bar drive. Depending on the application, it can also be equipped with an ID/OD spring safety device. Numerous accessories are available, including inductive proximity sensors and magnetic sensors.

The PWG-plus gripper jaws and gripper mounting holes are capable of mounting directly to certain SCHUNK compensation units, attachment valves, and quick-change jaw systems.
There are many advantages to using the PWG-plus gripper, including the design of outrigger workpiece supports due to threaded connections and centering sleeve options. There are also a variety of gripper sizes and gripping torques.
About SCHUNK:
SCHUNK is the worldwide competence leader for clamping technology and gripping systems. Totaling more than 60 years of experience, SCHUNK is a family owned operation and a global player in one. For more information, visit www.schunk.com
Featured Product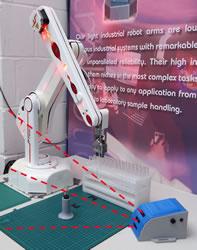 ST Robotics have decades of experience in industrial robots having sold hundreds of robots over the years. The company has 3 main models, R12, R17 and R19 all using a unique simple industrial technology that dramatically reduces costs resulting in the lowest priced industrial robots available. The same uncomplicated technology vastly improves reliability. ST backs this up with a 2 year warranty. Typical applications are routine testing, sample handling and also education. The software is a different paradigm from most robots. It is command based; you type a command and see immediate action. Programming is a building block approach, building confidence as you program in small 'mind-sized bytes'. ST offers free unlimited technical support.