Festo continues to expand product stocking capabilities and application expertise closer to customers in automation growth areas in western states.
HAUPPAUGE, NY December 08, 2015 -- Festo today named two new distributors in Colorado - MSI Tec and ProWest Pneumatics and Supply, Englewood. Festo is one of the world's leading suppliers of pneumatic and electric motion actuation components and subassemblies. The company is recognized for the breadth of its product lines, the number of industries served, trailblazing engineering, and the unsurpassed performance of Festo-based solutions.

For more than 25 years, MSI Tec has played an integral role in the design, building, installation, and support of thousands of automation systems. MSI Tec specializes in precision motion control, intelligent machine control and operator interface systems, device networking for remote monitoring and control, computing and networking systems, both industrial and collaborative robotics, sensing technologies, and machine safety. MSI personnel provide help with product selection, engineering, programming, installation, and product training.
ProWest Pneumatics and Supply offers industrial customers in the Rocky Mountains a one-stop-shop for pneumatic components and power/controlled tools. ProWest customers are involved in building automated machines and systems, plant maintenance and operation, light assembly, material handling, transportation, and oil and gas generation. The company's experienced staff offers technical solutions from complete assembly setup to pre-engineered automation design. ProWest also specializes in replacement or crossover for hard to find components.
"The best distributors in automation today have advanced parts stocking and distribution systems in place as well as the engineering expertise to help customers quickly identify optimum solutions," said Mark Snyder, Head of Festo US Distribution. "These distributors invest in training their personnel and instilling a culture of service. MSI Tec and ProWest Pneumatics and Supply exemplify these qualities."
For more information on Festo: http://www.festo.us, 800-993-3786; MSI Tec: http://www.msitec.com, 866-397-7388; and ProWest Pneumatics and Supply: http://www.prowestair.com, 303-936-9600.
Featured Product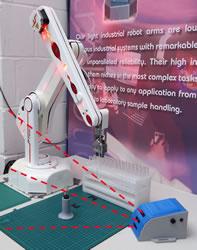 ST Robotics have decades of experience in industrial robots having sold hundreds of robots over the years. The company has 3 main models, R12, R17 and R19 all using a unique simple industrial technology that dramatically reduces costs resulting in the lowest priced industrial robots available. The same uncomplicated technology vastly improves reliability. ST backs this up with a 2 year warranty. Typical applications are routine testing, sample handling and also education. The software is a different paradigm from most robots. It is command based; you type a command and see immediate action. Programming is a building block approach, building confidence as you program in small 'mind-sized bytes'. ST offers free unlimited technical support.