Southborough, MA… Novotechnik, U.S. introduces the LWX-003/004 Series of position sensors designed for extremely harsh environments. The all metal sensor shaft features a pressure equalization valve and the LWX-004 version also provides rod protection over its range of motion with an SS304 alloy, 0.9 mm thick stainless steel shield.

The LWX Series' differential pressure compensation system compensates for the pump effect - pressure that can build up due to push rod movement. This feature, together with a hydraulic shaft seal, provides protection against ingress of liquids and dust. Seal rating is IP67. Backlash-free pivot heads are designed for easy mounting and permit ±12.5% free movement.
Other key specifications for the LWX Series include operation with shock to 50 g and vibration to 20 g, stroke lengths from 50 to 750 mm, linearity to 0.04%, life of more than 50 million movements and repeatability of 0.01 mm.
For more information contact Novotechnik U.S., Inc., 155 Northboro Road, Southborough, MA 01772 • Phone: 508-485-2244 • Web: www.novotechnik.com/lwx
Featured Product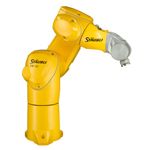 TX2 series of robots: the next generation of fast and precise 6-axis robots. This new robot range is redefining performance with the optimum balance of speed, rigidity, size and envelope. Those pioneer robots can be used in all areas, including sensitive and restrictive environments thanks to their unique features. Known worldwide for the quality of our design and innovation for more than a century, the Stäubli Group has brought its renowned engineering expertise and technological ingenuity to the forefront of robotics. Since 1982, we have built a highly regarded robotics business, and more significantly, transformed the way thousands of manufacturing operations perform. Today Stäubli Robotics is a leading player in robotics around the world, consistently delivering engineering as effective and reliable as our service and support.