IZAL Series sensors are ideal for medical, industrial, testing, agricultural and military applications ---- IP65 Housing protects against harsh environments
December 16, 2015 - Frisco, Texas

Hoffmann + Krippner, Inc. now provides extremely slim, inductive displacement Inelta IZAL series sensors. Utilizing differential sensing technology, these innovative sensors ensure precise path length measurements in applications with highly confined spaces. Although the 4mm diameter housing of these Linear Variable Differential Transformer (LVDT) sensors are barely larger than a matchstick, their interior provides a complete and powerful differential transformer measuring system with a core and coils.
"The production of such a tiny sensor requires utmost precision. The small coils are wound with a special winding machine," explained Michael Fiala, Developer at Inelta Sensorsysteme GmbH & Co. KG.
"This new IZAL series sensor provides engineers and developers a reliable sensor with the highest measurement accuracy, especially for applications with extremely little space."
The contactless, wear-free sensors for displacement and position detection achieve a linearity tolerance of ± 0.5% (optionally 0.25%) and are designed for the extremely small measuring ranges of 1, 2.5 and 5 mm.
With a housing made of chemically nickel-plated steel (protection class IP65) and a temperature range of -25 to +85° C, (which can be extended even further upon request), these new miniature displacement and position sensors are suitable for use in harsh and demanding environments.
The actuation takes place via an unguided core, with the sensors being connected via a 1mm cable (optionally available in other lengths). Upon request, Hoffmann + Krippner also provides custom sensor versions with additional equipment options, e.g. individual calibrations.
Datasheets and additional information are available for download at http://www.hoffmann-krippner.com.
Featured Product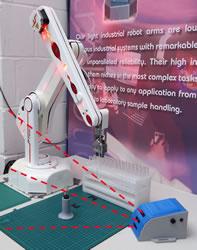 ST Robotics have decades of experience in industrial robots having sold hundreds of robots over the years. The company has 3 main models, R12, R17 and R19 all using a unique simple industrial technology that dramatically reduces costs resulting in the lowest priced industrial robots available. The same uncomplicated technology vastly improves reliability. ST backs this up with a 2 year warranty. Typical applications are routine testing, sample handling and also education. The software is a different paradigm from most robots. It is command based; you type a command and see immediate action. Programming is a building block approach, building confidence as you program in small 'mind-sized bytes'. ST offers free unlimited technical support.