Fisnar announces an all new line of desktop solder robots. Available in 2 sizes to fit most soldering applications.
PINE BROOK, NEW JERSEY, DECEMBER 17, 2015: Fisnar is pleased to announce its new line of desktop soldering robots. The F7000SR series brings together the easy to use robotics that Fisnar is famous for with precision soldering equipment.

Built with the user in mind this new line of soldering robots boasts high repeatability that minimizes the amount of rejects and keeps the cost of ownership very low. It's the perfect solution for replacing current hand soldering applications or to bring outsourced applications in-house.
The system includes a built in solder tip cleaning station that helps prolong the life of your soldering head as well as reduce down time for cleanings. Designed to handle solder diameters ranging from 0.6 to 1.2mm and a fully adjustable temperature control, the F7000SR series is perfect for a wide variety of soldering applications.
If you have a soldering application and would like to see if our robot can help, please contact us to set up your free proof of concept video. Simply send us your application and specifications and one of our engineers will program the robot and film the final results all free of charge.
Fisnar is a world leader in automation and fluid dispensing. We manufacture Soldering robots, automated dispensers, valves, industrial robots, peristaltic pumps, metering and mixing systems for two-part fluids, hot melt systems, syringes and consumables including needles, barrels and tips.
Featured Product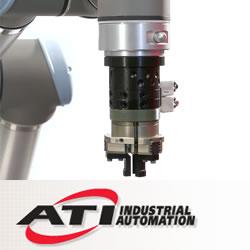 The ATI Robotic Tool Changer provides the flexibility to automatically change end-effectors or other peripheral tooling. These tool changers are designed to function reliably for millions of cycles at rated load while maintaining extremely high repeatability. For this reason, the ATI Tool Changer has become the number-one tool changer of choice around the world. ATI Tool Changer models cover a wide range of applications, from very small payloads to heavy payload applications requiring significantly large moment capacity.