Dorset, England is known for their large woodlands, and Hooke Park- being 50 acres of woodland, is Dorset's biggest one yet. Located just north west of Dorchester, Hooke Park's woodlands mainly consist of 2 species of trees that were planted from the 1950s. Their plan is to have over 15 species that are durable and strong in 50 to 60 years so they can provide a product for the future.Courtesy of Architectural Association School of Architecture
Montreal, QC - Dorset, England is known for their large woodlands, and Hooke Park- being 50 acres of woodland, is Dorset's biggest one yet. Located just north west of Dorchester, Hooke Park's woodlands mainly consist of 2 species of trees that were planted from the 1950s. Their plan is to have over 15 species that are durable and strong in 50 to 60 years so they can provide a product for the future.Courtesy of Architectural Association School of Architecture

Hook Park is a commercial run forest for timber, and one of the biggest problems they face is a lot of their timber is of variable quality; it is bent, forked, or not suitable for the straightness needed to put through a saw mill. That means that a large portion of their timber ends up being sold as fire wood instead of construction timber.
Students from London's architecture school have been living on-site in the woodlands as part of their curriculum and have various building projects starting from simple structures, to complex houses and shelters. The project they're tasked with this year is to take the bad trees; the trees that are firewood quality, and make a whole building out of it.
The students start off by wandering the forest, taking photographs of about 200 trees, and then create a preliminary design. Once they find and choose the ones they want to use, they 3D-scan the wood to create a geometry, which is then used to program their robot using Robotmaster. Overall, their project building will be made up of 20 forked tree trunks. Using the scanned 3D image of each unique tree, the robot cuts the joints needed to fit them together during the final construction.
The host of the BBC program was watching the Kuka robot programmed with Robotmaster milling into creation precise grooves and angles on the forked tree to fit perfectly amongst all the other forked trees, and was in awe by what he saw. He said "It's such an odd relationship going on in there, with something that is grown so naturally and so beautiful, it's being fashioned by something so futuristic".
Robotmaster is dramatically simplifying the complex milling processes that the students need, and is substantially reducing the overall time needed to program and mill since the process has to be repeated over 20 times, and each time having their own unique complex path.
About Hypertherm Robotic Software
Hypertherm's Robotic Software Team develops Robotmaster, off-line programming software that provides quick and easy tools for industrial robotics and manufacturing. This allows robot programmers to drastically reduce programming time and effort by adopting Robotmaster while maximizing a rapid return on their investment. Robotmaster software is ideally suited to program robots for such tasks as trimming, cutting, welding, de-burring, polishing, dispensing, grinding, spraying, painting and 3D machining, while supporting most industrial robot brands.
About Hypertherm
Hypertherm designs and manufactures advanced cutting products for use in a variety of industries such as shipbuilding, manufacturing, and automotive repair. Its product line includes plasma, laser and waterjet cutting systems, in addition to CNC motion and height controls, CAM nesting software, robotic software and consumables. Hypertherm systems are trusted for performance and reliability that result in increased productivity and profitability for hundreds of thousands of businesses. The New Hampshire based company's reputation for cutting innovation dates back nearly 50 years to 1968, with Hypertherm's invention of water injection plasma cutting. The 100 percent associate owned company, consistently named a best place to work, has more than 1,400 associates along with operations and partner representation worldwide.
Featured Product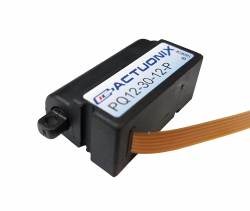 The PQ12-R series of linear servos are the smallest affordable linear servo on the market today. Small enough to fit inside a tic tac box, it's very powerful with a maximum force of over 11lbs. It operates as a direct plug-and-play replacement for standard rotary servos, using the same standard 3 wire connector. Regardless of how you drive your servos, be it with an RC receiver, an Arduino board, or a VEX micro-controller, the PQ12-R servo will function in place of a regular servo, but with the added benefit of providing linear motion. They're available in a 20mm stroke coupled with gear ratio options of 30:1, 63:1 and 100:1 cover a large variety of applications. Our PQ12 is popular used in a variety of robotics applications, medical devices, radio control and 3D printable bionic hands. Our PQ12 is proudly designed in Canada by our in-house team of engineers and thoroughly tested before leaving our facility.