Zaber's new product, the X-NMS-E Series, simplifies motion control by incorporating a built-in controller and motor encoder. Capable of over 25,000 microsteps per revolution and up to 2800 rpm, this compact stepper motor includes a detachable home sensor and small magnet. An additional, optional away sensor is also available.
Like a
ll of Zaber's X-Series products, the X-NMS-E is able to daisy-chain with other Zaber products, and is able to share a single power supply with multiple X-Series products.
Featured Product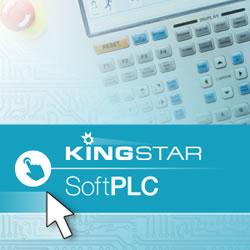 KINGSTAR Soft Motion is an open and standards-based, real-time software-only solution that streamlines motion control automation. Soft Motion runs directly on the 64-bit PC, uses the NIC card for I/O, and uses the powerful EtherCAT protocol to free you from the shackles of proprietary and costly hardware. With Soft Motion, motion control engineers can design, develop and integrate real-time PC-based machine controllers in a "plug-and-play" environment for consolidated, inexpensive and scalable motion control.