ABI Research Forecasts Continued, Steady Growth for Both the Toy/Hobbyist and Prosumer UAV Sectors
The consumer drone market continues to exhibit dramatic growth as users look to use them to enrich their pastimes and activities. ABI Research, the leader in technology market intelligence, predicts more than 90 million consumer UAVs will ship during 2025, up from 4.9 million in 2014 with a CAGR of 30.4% over the same period. Consumer drone revenues in 2025 are forecast to reach $4.6 billion.

According to research findings, toy/hobbyist drone shipments accounted for 30% of consumer UAV revenue in 2014, while the prosumer segment captured 69%. ABI Research anticipates that toy/hobbyist UAV revenue will surpass prosumer UAV revenue beginning in 2017, and will account for more than two-thirds of the $4.6 billion consumer drone market in 2025.
"For the study period, the overwhelming majority of consumer UAVs shipped will be toy/hobbyist UAVs, followed by prosumer UAVs, while kits and custom UAVs will remain a small market," says Phil Solis, Research Director at ABI Research. "Overall, growth in the consumer drone sector will remain strong, spurred by the creation of new use cases and the adoption of the technological advancements generated by well-funded market leaders such as DJI, 3DR, Parrot, and Yuneec, among others."
Additionally, the report finds that as the complexity of technology in the toy/hobbyist segment continues to increase, consumer UAVs with at least one camera can expect higher shipments than those without any cameras from 2019 onward. These cameras will not be limited to taking pictures and video, but will also be utilized for machine-vision applications, such as motion tracking, obstacle avoidance and other advanced functionalities.
"It will be interesting to watch what happens as consumer UAV technology continues to evolve," concludes Solis. "The future challenge will lie in finding ways to keep the products interesting. By transforming consumer UAVs into flying smartphone-like platforms, product vendors will be able to add innovative technological functionality into the devices with an eye on more open application development to enable innovative use cases. This will enable products to hold consumers' interest longer, increase product value, and expand product lifespan."
These findings are part of ABI Research's Consumer Robotics Service (https://www.abiresearch.com/market-research/service/consumer-robotics/), which includes research reports, market data, insights and competitive assessments.
# # #
About ABI Research
For more than 25 years, ABI Research has stood at the forefront of technology market intelligence, partnering with innovative business leaders to implement informed, transformative technology decisions. The company employs a global team of senior analysts to provide comprehensive research and consulting services through deep quantitative forecasts, qualitative analyses and teardown services. An industry pioneer, ABI Research is proactive in its approach, frequently uncovering ground-breaking business cycles ahead of the curve and publishing research 18 to 36 months in advance of other organizations. In all, the company covers more than 60 services, spanning 11 technology sectors. For more information, visit www.abiresearch.com.
Featured Product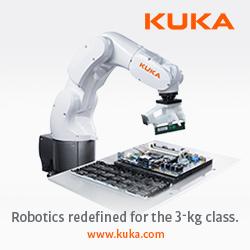 Great advances often start with small steps - in manufacturing cells measuring only 600 × 600 mm. Here, the KR 3 AGILUS is in its element. Particularly in the case of small parts and products which must be produced in a minimum of space. KUKA expertise, concentrated into the smallest of spaces, is setting new standards for the 3-kg class. The lightweight robot masters various tasks with agility, dynamism and maximum precision, leading to high flexibility in production - even when it comes to extremely narrow spaces.