RENCO encoders have a new home online with the launch of a redesigned website at www.renco.com .
SCHAUMBURG, IL (January 2016) - RENCO encoders have a new home online with the launch of a redesigned website at www.renco.com . This is of special interest to those that work with electrical drive technology, robotics, medical technology, automation, and building services engineering.

The new RENCO website features many helpful resources including a new rotary encoder product selection tool allowing users to easily identify the exact variation of encoder they are looking for. In addition, users can access links to 2D and 3D CAD drawings for all RENCO variants, mounting instructions and videos to ease installation, and a brand new catalog available for download.
The RENCO brand is currently highlighted by the R35i and RCML15 rotary encoders without integral bearing. These encoders use the optical scanning principle and offer the greatest possible functionality while featuring the smallest possible dimensions, thanks in large part to their simple and self-centering installation method with a patented slide-lock mechanism.
HEIDENHAIN produces the RENCO rotary encoders, and also sells them worldwide. This means that RENCO rotary encoders benefit from HEIDENHAIN's comprehensive know-how in the development and production of encoders. HEIDENHAIN develops and manufactures linear and angle encoders, rotary encoders, digital readouts and numerical controls for demanding positioning tasks. To date, HEIDENHAIN has shipped nearly six million linear encoders, over 15 million rotary and angle encoders, approximately 500,000 digital readouts and 260,000 TNC controls.
Featured Product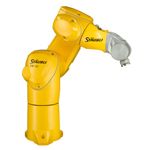 TX2 series of robots: the next generation of fast and precise 6-axis robots. This new robot range is redefining performance with the optimum balance of speed, rigidity, size and envelope. Those pioneer robots can be used in all areas, including sensitive and restrictive environments thanks to their unique features. Known worldwide for the quality of our design and innovation for more than a century, the Stäubli Group has brought its renowned engineering expertise and technological ingenuity to the forefront of robotics. Since 1982, we have built a highly regarded robotics business, and more significantly, transformed the way thousands of manufacturing operations perform. Today Stäubli Robotics is a leading player in robotics around the world, consistently delivering engineering as effective and reliable as our service and support.