RENCO encoders have a new home online with the launch of a redesigned website at www.renco.com .
SCHAUMBURG, IL (January 2016) - RENCO encoders have a new home online with the launch of a redesigned website at www.renco.com . This is of special interest to those that work with electrical drive technology, robotics, medical technology, automation, and building services engineering.

The new RENCO website features many helpful resources including a new rotary encoder product selection tool allowing users to easily identify the exact variation of encoder they are looking for. In addition, users can access links to 2D and 3D CAD drawings for all RENCO variants, mounting instructions and videos to ease installation, and a brand new catalog available for download.
The RENCO brand is currently highlighted by the R35i and RCML15 rotary encoders without integral bearing. These encoders use the optical scanning principle and offer the greatest possible functionality while featuring the smallest possible dimensions, thanks in large part to their simple and self-centering installation method with a patented slide-lock mechanism.
HEIDENHAIN produces the RENCO rotary encoders, and also sells them worldwide. This means that RENCO rotary encoders benefit from HEIDENHAIN's comprehensive know-how in the development and production of encoders. HEIDENHAIN develops and manufactures linear and angle encoders, rotary encoders, digital readouts and numerical controls for demanding positioning tasks. To date, HEIDENHAIN has shipped nearly six million linear encoders, over 15 million rotary and angle encoders, approximately 500,000 digital readouts and 260,000 TNC controls.
Featured Product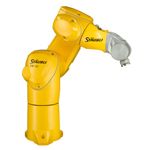 Stäubli offers a complete range of robotic tool changing systems for payloads of 20 kg to 1,530 kg and torsion moments from 30 to 12,500 Nm, designed for use in virtually every industry. The tool changers adapt to customer-specific applications with different modules for media, data, power, etc. The new MPS 130 robotic tool changer is powerful, very robust, and designed for a huge range of applications. It features multiple couplings for air/vacuum connections, and can be equipped with connectors for data and electrical transmission. Very compact dimensions, with a coupled height of only 67 mm, make the MPS 130 the first choice for applications requiring a high number of mating cycles.