Following a soft launch in January, www.ManufacturingTomorrow.com has officially launched its Online Trade Magazine.
San Diego, California, February 1st, 2016 - ManufacturingTomorrow, a new online Industry 4.0, Advanced Manufacturing and Factory Automation publication, today announced its official launch. With fresh articles, case studies and interesting news from around the industry and the globe, ManufacturingTomorrow has positioned itself to be a leading resource whether you work in the manufacturing and 3D printing field or just share an interest for everything manufacturing.

In addition to the launch of the website, ManufacturingTomorrow will be sending out the first of its bi--monthly Newsletter to its subscriber base. The Newsletter is designed to deliver the most popular news and articles from the recent issue directly to your inbox. You can also find ManufacturingTomorrow on Facebook, Twitter, LinkedIN and Google+ with direct feeds of industry news and articles.
ManufacturingTomorrow.com is a new venture from LJB Management Inc.. The company out of San Diego, CA is a pioneer in the Online Trade Magazine concept. Three other popular publications, HomeToys.com, AltEnergyMag.com and RoboticsTomorrow.com, draw in thousands of monthly readers from across the globe. Bob Hetherington, editor and founder of LJB Management, had this to say about the launch of ManufacturingTomorrow.com. "We've always been looking ahead to the next industry breakthrough with our publications. In 1996 HomeToys led the way into online publishing about the Home Technology industry. In 2002 we launched AltEnergyMag to cover Alternative Energy, in 2011 we foresaw Robotics as the next industry to hit the headlines in a big way and now we see great growth in the advanced Manufacturing industry especially 3D printing and what we are calling Industry 4.0."
About ManufacturingTomorrow.com
ManufacturingTomorrow.com is an Online Trade Magazine featuring Products, Companies, News, Articles and Events for the Advanced Manufacturing, Factory Automation & 3D Printing industries. With an emphasis on the state of the art and on the horizon technologies that have strong prospects of commercialization, our philosophy is to create an outlet where the industry can share information and report on itself.
Featured Product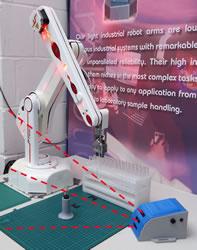 The 6-axis version of the R17HS high speed variant of the R17 robot is now available. As is our policy the 6th axis is an optional bolt-on module. At the same time we have made it even faster and new software eliminates shake and greatly improves repeatability as this video shows. Please see https://www.youtube.com/watch?v=3wG0MeiJ-yE. The video would seem to imply a repeatability of 0.01mm but we are sticking with 0.2mm in the spec. The motor specialist was able to tune the motors from the other side of the pond. My first reaction when we put power on and entered the first commands was to jump back in amazement (and maybe an expletive). Tip speed is now 3m/s; that's 3 times as fast as its nearest competitor yet costs half the price. I love it when a plan comes together.