For applications where anti-static operation is required. Available in a range of bearing sizes, as well as machinable bar stock.
Uncontrolled static discharges may negatively affect electronic components, can hinder production processes, or even contribute to fire risk. In certain industries, such as textile manufacturing, particles and flying debris are attracted by statically charged bearings and cling to them, causing expensive maintenance work and system downtime. Now, in applications where ESD properties are required, the self-lubricating iglide F2 EDS bearing material is now available.

iglide F2 contributes to continuous active discharge of electrostatic charges. The low surface resistance, which ranges between 103 and 109 Ω depending on component geometry reduces the charging voltage level, and contributes to the depletion of the charge.
In order to secure maximum design flexibility, igus offers the iglide F2 material in 14 bearing diameters, as well as machinable bar stock.
Like all iglide bearing materials, the ESD iglide F2 material is self-lubricating, maintenance-free, and has been tested and engineered to possess excellent wear properties. iglide F2 is also extremely resistant to dust and debris, and stands up to high loads and speeds.
About igus®
igus® develops industry-leading Energy Chain® cable carriers, Chainflex® Motion Cables, DryLin® linear bearings and linear guides, iglide® plastic bushings, and igubal® spherical bearings. These seemingly unrelated products are linked together through a belief in making functionally advanced, yet affordable plastic components and assemblies. With plastic bearing experience since 1964, cable carrier experience since 1971 and Motion Cables since 1989, igus provides the right solution from over 100,000 products available from stock. No minimum order required. For more information, contact igus at 1-800-521-2747 or visit http://www.igus.com.
Featured Product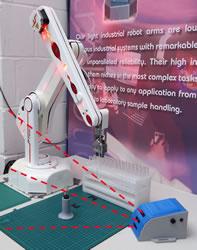 ST Robotics have decades of experience in industrial robots having sold hundreds of robots over the years. The company has 3 main models, R12, R17 and R19 all using a unique simple industrial technology that dramatically reduces costs resulting in the lowest priced industrial robots available. The same uncomplicated technology vastly improves reliability. ST backs this up with a 2 year warranty. Typical applications are routine testing, sample handling and also education. The software is a different paradigm from most robots. It is command based; you type a command and see immediate action. Programming is a building block approach, building confidence as you program in small 'mind-sized bytes'. ST offers free unlimited technical support.