Advanced Motion Technology Will Complement iTRAK Motion Solution
MILWAUKEE--(BUSINESS WIRE)--Rockwell Automation (NYSE: ROK) today announced that it has agreed to purchase MagneMotion, a leading manufacturer of intelligent conveying systems. MagneMotion systems are used across a broad range of industrial applications including automotive and general assembly, packaging and material handling. This acquisition will complement Rockwell Automation's iTRAK to create the broadest portfolio of independent cart solutions in this emerging technology area.

"This acquisition continues our strategy to build a portfolio of smart manufacturing technologies that brings next generation performance to our customers today," said Marco Wishart, vice president and general manager of Rockwell Automation's motion control business. "MagneMotion expands our existing capabilities in independent cart technology. Our recent acquisition of Jacobs Automation and its iTRAK technology is complementary to MagneMotion's portfolio. We see a future where the transportation of products within the factory, whether inside of a particular machine or between machines, will be fully controlled to optimize the productivity and flexibility of the entire process."
"This deal is the logical next step in the evolution of our business, and a welcome development for MagneMotion," said Todd Weber, president and CEO of MagneMotion. "Rockwell Automation's leading position in plant-wide controls and industrial automation gives us the best opportunity to introduce this technology to customers. As the market continues to realize the benefits of applying independent cart technology, Rockwell Automation's global organization will be a tremendous asset."
MagneMotion, based in Devens, Mass., will be integrated into Rockwell Automation's motion business, within its Architecture & Software segment. The acquisition is expected to close this quarter.
Rockwell Automation Inc. (NYSE: ROK), the world's largest company dedicated to industrial automation and information, makes its customers more productive and the world more sustainable. Headquartered in Milwaukee, Wis., Rockwell Automation employs over 22,000 people serving customers in more than 80 countries.
Featured Product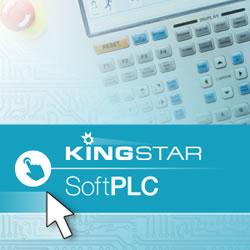 KINGSTAR Soft Motion is an open and standards-based, real-time software-only solution that streamlines motion control automation. Soft Motion runs directly on the 64-bit PC, uses the NIC card for I/O, and uses the powerful EtherCAT protocol to free you from the shackles of proprietary and costly hardware. With Soft Motion, motion control engineers can design, develop and integrate real-time PC-based machine controllers in a "plug-and-play" environment for consolidated, inexpensive and scalable motion control.