Annual Smart Manufacturing Summit will provide a platform for the key decision makers of the manufacturing industry in order to discuss new technologies, manufacturing automation, expansion of robotics and intelligence in manufacturing. It will give a great chance to exchange knowledge and ideas on how the use of advances in manufacturing can increase productivity, improve quality and reduce costs and discuss current challenges and dynamics of this field. The purpose of the summit is to create a perfect atmosphere conducive to developing strategies for future success and achieving real results as well as active networking.
Key Practical Learning Points of the Summit

Latest technologies and applications in manufacturing;
Manufacturing Automation;
Development of the control systems with low cost and high performance;
Latest technologies and application of modern intelligent robots;
Manufacturing Solutions for Small-to-Medium Businesses;
Right use of big data analysis tools and intelligent software;
Business Intelligence for manufacturing
Industry 4.0 Era: combining smart factories and intelligent manufacturing;
Featured Product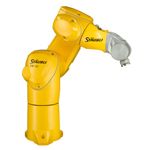 TX2 series of robots: the next generation of fast and precise 6-axis robots. This new robot range is redefining performance with the optimum balance of speed, rigidity, size and envelope. Those pioneer robots can be used in all areas, including sensitive and restrictive environments thanks to their unique features. Known worldwide for the quality of our design and innovation for more than a century, the Stäubli Group has brought its renowned engineering expertise and technological ingenuity to the forefront of robotics. Since 1982, we have built a highly regarded robotics business, and more significantly, transformed the way thousands of manufacturing operations perform. Today Stäubli Robotics is a leading player in robotics around the world, consistently delivering engineering as effective and reliable as our service and support.