The L-731 magnetic linear drive ensures high velocity and acceleration.
Motion and precision positioning systems expert PI (Physik Instrumente) L.P. introduces a new compact metrology XY stage - the L-731. The magnetic linear direct drive ensures high velocity and acceleration, ideal for inspection and microscopy.

High Travel Accuracy, Stability
With a travel range of 205mm square and solid velocity to 100mm/sec, the L-731 delivers high accuracy and smooth motion. Precision crossed roller bearings with anti-creep cage assist guarantee superior guiding accuracy (1.5µm straightness for loads up to 20kg).
An integrated optical reference encoder and limit switch provide further positioning control and accuracy for this compact stage with 5nm resolution. DC servo motor versions are available on request.
Standard and Custom
PI has in-house engineered solutions with over 4 decades of experience working with customers to provide products that meet application demands, and can quickly modify existing product designs or provide a fully customized OEM part to fit the exact requirements of the application.
Applications of the L-731
Fields of applications include automation, semiconductor applications, photonics, bio-nano-technology, metrology, microscopy, micro-manipulation, including cleanroom applications.
Features & Advantages
Travel Range 205mm x 205mm (8")
Sensor Resolution 5nm
Velocity to 100mm/s
Load Capacity to 20kg
Integrated Direct Drive Linear Motors and Linear Encoders
Featured Product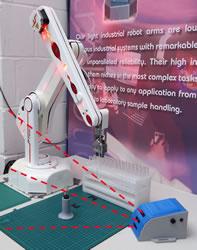 ST Robotics have decades of experience in industrial robots having sold hundreds of robots over the years. The company has 3 main models, R12, R17 and R19 all using a unique simple industrial technology that dramatically reduces costs resulting in the lowest priced industrial robots available. The same uncomplicated technology vastly improves reliability. ST backs this up with a 2 year warranty. Typical applications are routine testing, sample handling and also education. The software is a different paradigm from most robots. It is command based; you type a command and see immediate action. Programming is a building block approach, building confidence as you program in small 'mind-sized bytes'. ST offers free unlimited technical support.