OTTO 100 provides light-load material transport for today's modern factories and warehouses
(Kitchener, ON, Canada - March 23, 2016) Today, Clearpath Robotics expanded the OTTO line of self-driving vehicles with OTTO 100. The vehicle is designed for autonomous light-load material transport in factories and warehouses.

"The OTTO 100 takes the high quality and reliability of the OTTO 1500 and puts those advanced capabilities into a smaller form factor." said Matt Rendall, Chief Executive Officer at Clearpath. "This enables new self-driving services in distribution, e-commerce, and manufacturing."
The OTTO 100 system delivers dynamic and efficient light-load transport in increasingly congested industrial operations. Traditional material handling systems require costly and rigid changes to infrastructure, cannot adapt to a changing environment, and are not safe for collaboration with warehouse personnel. OTTO does not rely on external infrastructure for navigation, making implementation hassle-free and highly scalable. OTTO 100 uses Clearpath's self-driving OS to provide autonomous transport up to 220lb loads at speeds up to 4.5mph, while tracking along optimal paths and safely avoiding collisions.
OTTO 100 can be configured with a lift, bin carrier, or cart and integrates directly with ERPs via the OTTO enterprise fleet management system.
The OTTO family of self-driving vehicles includes OTTO 100 for light-load material transport and OTTO 1500 for heavy-load material transport. The entire OTTO material transport ecosystem will be showcased at MODEX 2016 in Atlanta, Georgia April 4-7 at Booth 3771.
For more information about the OTTO 100 self-driving vehicle, visit www.clearpathrobotics.com/otto-100.
About Clearpath Robotics
Clearpath Robotics Inc. develops self-driving vehicles for industry. The company provides hardware, software and services to enable self-driving vehicle development, deployment and fleet operation. Clearpath works with over 500 of the world's most innovative brands in over 40 countries, serving markets that span industrial materials handling, mining, military, agriculture, aerospace and academia. Clearpath is an award-winning company with recent awards, including Robotics Business Review Top 50 Company, Edison Award for Innovation, Business Insider Top 40 under 40, and Canada's Top 100 Employers. Visit Clearpath Robotics at www.clearpathrobotics.com.
Featured Product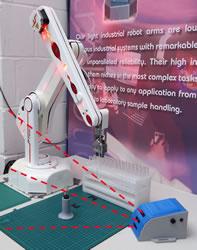 ST Robotics have decades of experience in industrial robots having sold hundreds of robots over the years. The company has 3 main models, R12, R17 and R19 all using a unique simple industrial technology that dramatically reduces costs resulting in the lowest priced industrial robots available. The same uncomplicated technology vastly improves reliability. ST backs this up with a 2 year warranty. Typical applications are routine testing, sample handling and also education. The software is a different paradigm from most robots. It is command based; you type a command and see immediate action. Programming is a building block approach, building confidence as you program in small 'mind-sized bytes'. ST offers free unlimited technical support.