Booth exhibitions focus on solutions to maximize labor, fulfillment efficiency
Intelligrated® (www.intelligrated.com), a leading North American-based automated material handling solutions and software provider, announces the lineup for its software booth at MODEX 2016, April 4-7 at the Georgia World Congress Center in Atlanta. At booth #2737, Intelligrated Software will exhibit its labor management software (LMS), fulfillment technologies, warehouse execution system (WES) and store solutions.

• WES - The Momentum™ WES platform offers the flexibility and speed necessary for complex omnichannel and e-commerce fulfillment by making automated decisions to respond to operational demands in real time.
• Light-directed fulfillment technologies - Light technology helps improve operator accuracy and increases picking and putting efficiency for simple and complex operations.
• Voice solutions - Intelligrated Software's Voice solutions provide hands-free, voice-directed picking to dramatically increase productivity, accuracy and economic viability. Its advanced speech recognition technology is capable of automating a wide range of mobile work tasks.
• LMS - GoalPost® LMS tracks, manages and plans labor to analyze performance and improve throughput for single-facility operations or multi-site enterprises.
• Store solutions - Intelligrated Store Solutions combine voice technology and LMS to meet increasing service level expectations and omnichannel fulfillment challenges. The solution captures transactional data to bring DC-like accuracy, efficiency and predictability to in-store processes.
To arrange a meeting at the show, email info@intelligrated.com. Spanish booth support will be available.
For sales and marketing information, contact Tracy Niehaus, marketing manager, Intelligrated, by phone at 513.881.5239 or by email at tracy.niehaus@intelligrated.com.
For media information, contact Dan Gauss, public relations, Koroberi, by phone at 919.797.2916 or by email at dan@koroberi.com.
Tweet this: @Intelligrated announces #software lineup for #MODEXShow 2016 bit.ly/1pyvvly #LMS #WES #voice
###
About Intelligrated
Intelligrated is a leading North American-based, single-source provider of intelligent automated material handling solutions that drive fulfillment productivity for retailers, manufacturers and logistics providers around the world. Through a broad portfolio of automation equipment, software, service and support, Intelligrated solutions give businesses a competitive edge and optimize operational performance through increased flexibility, efficiency and accuracy.
Intelligrated designs, manufactures, integrates and installs complete material handling automation solutions including conveyor, IntelliSort sortation, Alvey palletizers and robotics, and automated storage and retrieval systems - all managed by advanced machine controls and software. Intelligrated Software offers warehouse execution systems, a scalable suite of software that manages the entire fulfillment process, including equipment, labor and business intelligence, integrated with voice- and light-directed picking and putting technologies.
From concept to integration to lifecycle support services, Intelligrated delivers dependable, sustained distribution and fulfillment success, and maximum return on investment. Intelligrated backs every project with 24X7 multilingual technical support and access to lifecycle service through a network of national, regional and local service centers. For more updates, follow us on Twitter @Intelligrated.
Featured Product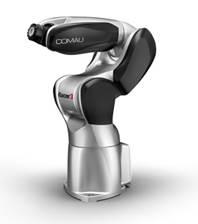 Racer3 is a powerful, high-speed, 6-axis articulated robot featuring a payload of 3kg and a reach of just 630 mm. Built from high-strength aluminum, the newest innovation in Comau robotics is lightweight and can be easily mounted on benches, walls, ceilings or on inclined supports. The third robot within the award-winning Racer family, Racer3 is Comau's response to the growing demand for fast, cost-effective robotic automation within small to medium-sized enterprises and emerging countries. Racer3 is intended for general industry use to increase productivity and reduce overall costs by automating industrial applications. It combines field-proven technology and enhanced dexterity with a keen focus on safety, design and product aesthetics. With a streamlined design and brushed metal exterior, the new powerhouse of a robot combines beauty and speed together with absolute precision and repeatability. Primary applications include assembly, material handling, machine tending, dispensing and pick & place.