NEXCOM's NControl 30 CNC Controller manages the complexity and sophistication of 5-axis CNC machining with ease, thereby reinvigorating machine automation at full throttle.
NEXCOM MECHATROLINK-III-certified CNC Controller, NControl 30, holds machine automation to a high standard, yielding superior quality output of CNC machining. The PC-based CNC controller brings machine builders the openness of PC architecture, high-speed and highly-reliable control of MECHATROLINK-III, and flexibility in machine development. Meticulous to details and precise in execution, the NControl 30 manages the complexity and sophistication of 5-axis CNC machining with ease, thereby reinvigorating machine automation at full throttle.

As a high performance PC-based CNC controller, the NControl 30 supports advanced CNC functions to produce a smooth surface finish. With built-in functions, such as tool center point (TCP) and look ahead planning and support for function expansion, the NControl 30 can equip 5-axis CNC machines and turning centers with all the dexterity required of 3D high-speed multi-channel machining. The NControl 30 can not only run a wide variety of machining processes including laser cutting, wood working, lathing, milling, and engraving; it can also consolidate auxiliary functions as supplements to CNC machines.
With quality coming first and foremost in manufacturers' minds, the NControl 30 has acquired MECHATROLINK-III compliance verification to keep CNC machines operating to stringent requirements. Taking advantage of error detection and noise resistance features of MECHATROLINK-III, the NControl 30 can ensure control commands are delivered accurately to slave drives and I/Os. The CNC controller can synchronize and coordinate all slave devices, enabling fluent movements of all axes. In addition to MECHATROLINK-III, the NControl 30 is also available with EtherCAT master which is suited to large-scale machining processes.
As CNC functions differ significantly from application to application, the NControl 30 offers flexible CNC design with a pre-installed Windows-based programming development tool 4CONTROL and HMI programming tool WinNBI. Machine builders can modify built-in CNC functions, redeveloping application-specific features to demonstrate their core competence; or build customized CNC HMI to further differentiate the CNN machine from competitors. NEXCOM also offers the dual-OS option with the NControl 30D, enabling CNC machines to run computer-aided design tool and more.
Featured Product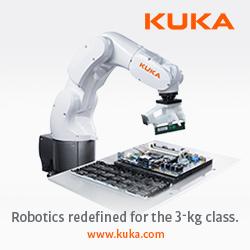 Great advances often start with small steps - in manufacturing cells measuring only 600 × 600 mm. Here, the KR 3 AGILUS is in its element. Particularly in the case of small parts and products which must be produced in a minimum of space. KUKA expertise, concentrated into the smallest of spaces, is setting new standards for the 3-kg class. The lightweight robot masters various tasks with agility, dynamism and maximum precision, leading to high flexibility in production - even when it comes to extremely narrow spaces.