Below, please find a press release from Yale Materials Handling Corporation (www.yale.com), announcing its 2016 MODEX seminar, titled "The Profitable Energy Equation for Materials Handling."
GREENVILLE, N.C. (March 29, 2016) - Yale Materials Handling Corporation announces its 2016 MODEX seminar, "The Profitable Energy Equation for Materials Handling," scheduled for Tuesday, April 5 at 11:15 a.m. in theater D at the Georgia World Congress Center. The seminar covers the financial and environmental advantages of using lift truck solutions powered by hydrogen fuel cells, lithium-ion batteries and compressed natural gas.

Presented by Mick McCormick, Vice President of Warehouse Solutions for Yale, the seminar explores the productivity-enhancing benefits of alternative power solutions, including increased uptime, reduced maintenance and improved performance. The seminar also covers applications best suited to reap the most benefit from each power technology.
"In addition to maximizing throughput, today's distribution operations contend with evolving environmental regulations and fluctuating energy costs," says McCormick. "In such conditions, alternative power sources are an increasingly attractive option to overcome business challenges and improve performance and equipment lifecycles with less downtime." Yale will also be exhibiting at MODEX, April 4 - 7 in booth #3147. Stop by to learn more about its alternative power, asset management and automation solutions designed to improve performance and efficiency.
About Yale Materials Handling Corporation
Yale Materials Handling Corporation markets a full line of materials handling lift truck products and services, including electric, gas, LP-gas and diesel powered lift trucks; narrow aisle, very narrow aisle and motorized hand trucks. Yale has a comprehensive service offering including Yale Vision wireless asset management, fleet management, Yale service, parts, financing and training. Yale® trucks are manufactured in an ISO 9001:2008 registered facility and range in capacity from 2,000 to 36,000 lbs.
Yale Materials Handling Corporation is a division of Hyster-Yale Group, a wholly owned subsidiary of Hyster- Yale Materials Handling, Inc. (NYSE:HY). Hyster-Yale Materials Handling, Inc. and its subsidiaries, headquartered in Cleveland, Ohio, employ more than 5,300 people world-wide.
Featured Product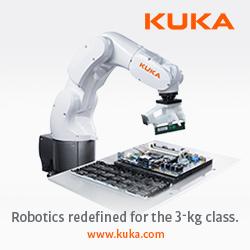 Great advances often start with small steps - in manufacturing cells measuring only 600 × 600 mm. Here, the KR 3 AGILUS is in its element. Particularly in the case of small parts and products which must be produced in a minimum of space. KUKA expertise, concentrated into the smallest of spaces, is setting new standards for the 3-kg class. The lightweight robot masters various tasks with agility, dynamism and maximum precision, leading to high flexibility in production - even when it comes to extremely narrow spaces.