Drones will cease to be seen as toys and will become actual tools that will change humanity permanently.
SHENZHEN, China, March 29, 2016 /PRNewswire/ -- On April 10th, MicroMultiCopters Aero Technology (MMC) will change the unmanned aerial vehicle (UAV) industry forever. Drones will cease to be seen as toys and will become actual tools that will change humanity permanently. After April 10th HyDrone 1800's 3 hour flight time will be but a minimum for both industrial and entertainment UAVs.

Many VIP end users and the press are invited to the launch not only to witness the beginning of the new UAV era, but to be a part of it, and to purchase the HyDrone 1800 after the presentation.
UAV companies that manufacture professional drones are in reality producing "toys" that average 30 minutes of flight time. Serious businesses cannot accomplish much in 30 minutes with their UAVs. But what could businesses achieve with more than 3 hours of flight time? MMC answers this question spectacularly.
MMC does not help the world by developing more toys or technological speculations. In fact, even MMC's Phoenix A6 UAV with its 75-minute endurance did not spark the company's interest for promotion. The HyDrone 1800 however, a copter that flies for more than 3 hours, covers a distance of up to 100km, and is able to operate below -20 degrees Celsius, stands as a foundation for further development in the professional UAV industry.
"No technology and concept, we only make real products" - Jinbos Chen MMC CTO
UAV technology is developing at a staggering rate. Only a few years ago drones were a niche product used by scientists. Many companies invest in R&D but fail to meet market standards, or even put their products into production. Technological speculations and predictions are not MMC's interest.
Research centers around the globe provide solid advancements but very few deliver actual products. MMC's focus on providing valid, stable products that are available at any time is the key to its expansion and success.
The company's new HyDrone 1800 will be on sale the moment it is launched. People will be able to purchase the drone that can fly the longest, cover the largest distances and carry significant payload. On April 10th people will be able to enter the new era of UAVs.
MMC as "the emperor" of the Industrial UAV Empire leads others into the future.
The industrial UAV sector belongs to MMC. Associated with DJI, the leader of the entertainment drone industry, MMC was the first to venture into developing industrial (waterproof, fireproof, dustproof) drones. Throughout 10 years of developing quadcopters, hexacopters, and octacopters, MMC became the leader of industrial UAVs and with the HyDrone 1800, it has reached the top of the industrial pyramid and become "the emperor" of the industry.
MMC welcomes all to join its thriving production and supply chain
MMC's best-in-class solutions derive from more than 14% of annual revenue investment in R&D. With its R&D centers in North America and China, it empowers companies and individuals from the industrial sector of the VTOL industry with solutions such as power line transmission, firefighting, agriculture, police, military and surveillance. These are developed by 70 engineers that work around the clock at MMC.
Established by MMC's own self-designed industrial UAV chain -- power system, flight control, ground station and the biggest carbon factory in Asia -- HyDrone 1800 is just the beginning of the revolutionary works of MMC. The company's focus is on altering the very core of the UAV industry by developing marginal energy solutions, expanding the current applications and ensuring availability of these products to all clients.
For further information please visit: http://en.mmcuav.com/
Featured Product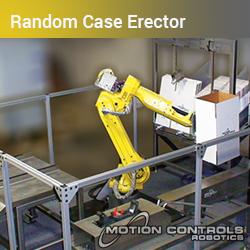 Random Case Erectors are ideal for fulfillment centers and other end-of-line packaging needs. Save money by eliminating changeover downtime. Reduce ergonomic injuries by eliminating repetitive manual tasks. The Random Robotic Case Erector System includes: • FANUC M20iA/20 Robot • Combi gravity case magazine - holds 2 box sizes • Combi bottom flap folder with integrated 3M case sealing head. • Fixed robot base, anchored to the floor • Flexible end of arm tool to pick and erect multiple case sizes to eliminate changeover downtime • System wiring and controls • Color 7.5" touchscreen HMI display for selecting case size • Perimeter guarding with safety interlocks on doors • Programming for Robot, PLC/PMC, HMI and Vision • Complete documentation in electronic format • On-site training and support • Compliance with all applicable robotic safety standards. Alternate safety configuration may be available to allow an operator to changeover a case size in one magazine while the robot continues to work in other magazines. Contact Motion Controls Robotics to learn more about how to implement this system into your current end-of-line operations.