Rising Media and Asimov Ventures revealed the list of startups who will compete in the upcoming Frontier Tech Startup Showdown at the Javits Center on April 12, 2016. The winner of the competition will be awarded a $15,000 uncapped SAFE courtesy of Asimov Ventures.
Rising Media, Inc. and Asimov Ventures revealed the eight competitors for the upcoming Frontier Tech Startup Showdown, which brings together top startups in 3D printing, robotics, and virtual reality.

The winner of the competition will be awarded a $15,000 Uncapped SAFE courtesy of Asimov Ventures, an early-stage venture capital firm investing in 3D printing and robotics. The competition takes place on April 12 at 11:45am and is sponsored by Asimov Ventures.
The Frontier Tech Startup Showdown is the official startup competition of Inside 3D Printing Conference & Expo, RoboUniverse Conference & Expo, and the newly launched Virtual Reality Summit. Past winners have collectively raised over $21 million, with the average winner raising more than $3.5 million in subsequent financing. Previous competition winners include 3D Hubs, Wiivv Wearables, Osiris Biomedical, Metamason, Voxel8, and CleverPet. This is the first year virtual reality startups will compete.
"This year's presenters were selected out of our most competitive application process yet," said Tyler Benster, General Partner, Asimov Ventures.
"Several applicants have exceeded $100k in revenue while others offer a compelling vision to bring Frontier Tech to the mainstream. We're excited to see which of these eight breakthrough startups is the last company standing," he continued.
The list of Frontier Tech Startup Showdown participants include:
3D Matter
Applied Motion
Arevo
Cellink
Dog Parker
Jodone
Voodoo Manufacturing
VRVU
Judges for the competition include: Tyler Benster, General Partner, Asimov Ventures; Oliver Mitchell, Partner, Mach 5 Ventures and Co-Chair, Frontier Tech Committee; Zack Schildhorn, Partner, Lux Capital; and Anarghya Vardhana, Senior Associate, Maveron.
Access to the competition is free for attendees who register in advance. For more information and to register, visit inside3dprinting.com/new-york.
About Rising Media
Rising Media is a global events and media producer excelling in Internet and technology-related events and content. Events include Inside 3D Printing, RoboUniverse, Virtual Reality Summit, Data Driven Business, Building Business Capability, Predictive Analytics World, Text Analytics World, eMetrics Summit, Conversion Conference, AllFacebook Marketing Conference, Search Marketing Expo, Affiliate Management Days and Web Effectiveness Conference in the USA, United Kingdom, Germany, France, Dubai, India, China, Korea, Singapore, Australia, Brazil.
Featured Product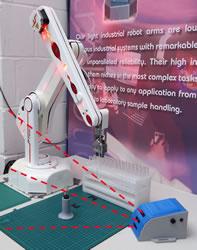 ST Robotics have decades of experience in industrial robots having sold hundreds of robots over the years. The company has 3 main models, R12, R17 and R19 all using a unique simple industrial technology that dramatically reduces costs resulting in the lowest priced industrial robots available. The same uncomplicated technology vastly improves reliability. ST backs this up with a 2 year warranty. Typical applications are routine testing, sample handling and also education. The software is a different paradigm from most robots. It is command based; you type a command and see immediate action. Programming is a building block approach, building confidence as you program in small 'mind-sized bytes'. ST offers free unlimited technical support.