New Independent Company Formerly The Defense and Security Business Unit of iRobot Corporation
BEDFORD, Mass., April 4, 2016 /PRNewswire/ -- Endeavor Robotics, a privately-held, U.S.-based ground robotics company focused on the defense, public safety and industrial markets, has officially launched operations as an independent company. Endeavor Robotics, formerly iRobot's Defense and Security Business Unit, was formed with financial backing from Arlington Capital Partners, to capitalize on emerging market opportunities in the defense ground robotics space. The new company will continue to serve its defense, public safety, and industrial customers while aggressively pursuing growth opportunities.

The company is led by CEO Sean Bielat, a former iRobot Defense & Security executive and U.S. Marine officer, along with Tom Frost, president of Endeavor Robotics and former senior vice president of iRobot's Defense & Security business unit. Endeavor Robotics' agile structure, accompanied by its experienced team, enables the company to provide the highest level of support to customers now and in the future.
"Our team is developing innovative new technology that will propel our growth, as well as actively reviewing acquisition opportunities that will continue to position Endeavor Robotics as an industry leader. The U.S. Department of Defense is planning at least three major ground robot program acquisitions in the next few years. Based on our combat-proven platforms and leading technology, Endeavor Robotics is well-positioned for all three. We anticipate substantial growth over the next several years, both domestically and with our international customers."
"As an independent company dedicated to tactical robotics, Endeavor Robotics will have the flexibility to meet the needs and protect the lives of our customers on the frontline and in other dangerous environments. We will develop the next generation of life-saving robot technologies," said Tom Frost, President of Endeavor Robotics. "We've always done our best work when we worked closely with our customers. Our new structure enables us to double down on that strategy. We believe that the future is in open architecture and collaborative solutions, and we look forward to working closely with our customers to make that a reality."
About Endeavor Robotics
Endeavor Robotics brings an established leadership team with decades of experience in the mobile robot industry, the best roboticists who collaborate with end-users to develop robots for worldwide markets, and veteran field service engineers who keep you in the fight. For more than 15 years, with deployments worldwide, operations in areas of conflict and in response to natural disasters, Endeavor Robotics has specialized in delivering battle-hardened and adaptable robotics. We are committed to working with industry leaders and partners to deliver innovative, reliable and the easiest to operate robot solutions. Endeavor Robotics has the largest installed base of ground robots with the U.S. Department of Defense. Endeavor Robotics family of robots include the 110 FirstLook, 310 SUGV, 510 PackBot, and 710 Kobra. To date, we have delivered more than 6,000 robots worldwide.
Featured Product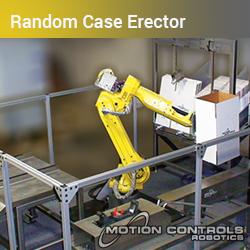 Random Case Erectors are ideal for fulfillment centers and other end-of-line packaging needs. Save money by eliminating changeover downtime. Reduce ergonomic injuries by eliminating repetitive manual tasks. The Random Robotic Case Erector System includes: • FANUC M20iA/20 Robot • Combi gravity case magazine - holds 2 box sizes • Combi bottom flap folder with integrated 3M case sealing head. • Fixed robot base, anchored to the floor • Flexible end of arm tool to pick and erect multiple case sizes to eliminate changeover downtime • System wiring and controls • Color 7.5" touchscreen HMI display for selecting case size • Perimeter guarding with safety interlocks on doors • Programming for Robot, PLC/PMC, HMI and Vision • Complete documentation in electronic format • On-site training and support • Compliance with all applicable robotic safety standards. Alternate safety configuration may be available to allow an operator to changeover a case size in one magazine while the robot continues to work in other magazines. Contact Motion Controls Robotics to learn more about how to implement this system into your current end-of-line operations.