The pioneer in grippers is now offering its customers a pneumatic parallel gripper in the form of the GPP1000 series.
Zimmer Group has further expanded its product range to include cost-effective yet robust automation components. The pioneer in grippers is now offering its customers a pneumatic parallel gripper in the form of the GPP1000 series. This gripper makes profitable production possible thanks to its remarkably low price, which is a dream come true for many customers.

The new gripper series GPP1000's unbeatably affordable price not only makes exceptionally cost-effective production a reality but also offers 100N gripping force in three different strokes (4 mm, 8 mm, 16 mm) per gripper jaw. This single-acting gripper is supplied for use as an external gripper, for pressure-free opening using reset spring. A few simple manual adjustments are all that is needed to convert this gripper so that its jaws are closed when not under pressure. This means the gripper can also be used as an internal gripper.
Each gripper has two grooves for holding the magnetic field sensors used to sense the gripper's position. The grippers are supplied with a glasfiber reinforced gripper jaw set and the material required to attach them. However, customer-specific gripper jaws can be installed at any time.
To make it easier for its customers to select the best product, Zimmer Group has divided its product portfolio into application profiles. The GPP1000 belongs to the AP1 base class, whose products are designed to handle all the essential tasks with a special emphasis on cost-effectiveness.
Despite its very reasonable price, the GPP1000 offers the same tried-and-tested quality you expect from all Zimmer Group products. With the ability to run for up to 2 million cycles without maintenance, it meets all the requirements for reliable, cost-effective production!
Featured Product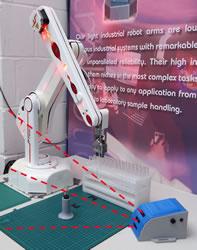 The 6-axis version of the R17HS high speed variant of the R17 robot is now available. As is our policy the 6th axis is an optional bolt-on module. At the same time we have made it even faster and new software eliminates shake and greatly improves repeatability as this video shows. Please see https://www.youtube.com/watch?v=3wG0MeiJ-yE. The video would seem to imply a repeatability of 0.01mm but we are sticking with 0.2mm in the spec. The motor specialist was able to tune the motors from the other side of the pond. My first reaction when we put power on and entered the first commands was to jump back in amazement (and maybe an expletive). Tip speed is now 3m/s; that's 3 times as fast as its nearest competitor yet costs half the price. I love it when a plan comes together.