China-based team to highlight automated solutions for post and parcel operations
(SHANGHAI: April 28, 2016)—Intelligrated® (www.intelligrated.com), a leading North American-based automated material handling solutions provider with operations in Shanghai, announces its lineup for POST-EXPO 2016, May 24-26 at the Asia World Expo center in Hong Kong. At booth #10018 in hall three, the company will feature its conveyor and sliding shoe sortation systems, designed for high-throughput post and parcel operations.

IntelliSort® sliding shoe sortation systems draw from more than 100 years of experience and thousands of installations to deliver efficient, reliable handling of a wide variety of packaging types and product sizes, from malleable polybags to rigid cases. Patented soft touch divert technology provides high-speed, gentle carton control and divert accuracy, and reduces item impact speed by 500 percent, enabling operations to minimize the risk of product damage without compromising throughput.
Intelligrated conveyor systems provide fast, gentle handling of letters, soft packs, polybags and corrugate cases to support the needs of ground-based and overnight delivery. Patented neighborhood mode enables accumulation conveyor to operate at the highest speeds in the industry while reducing carton rotation and side-by-side products. Configured as modular components, Intelligrated conveyor systems occupy minimal facility space and seamlessly integrate with other automated equipment, backed by complete integration and support services for a lifetime of reliable service.
"As post and parcel carriers are challenged to meet increasingly higher standards of efficiency, they require best-of-breed, reliable conveyor and sortation technology backed by a trusted local presence," says Danny Liang, general director, Chinese operations. "Intelligrated's Shanghai team is well-positioned to give businesses a competitive edge and support sustained growth with increased flexibility, accuracy and speed."
Featured Product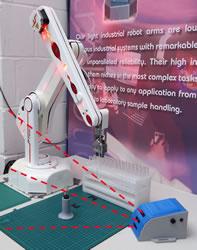 The 6-axis version of the R17HS high speed variant of the R17 robot is now available. As is our policy the 6th axis is an optional bolt-on module. At the same time we have made it even faster and new software eliminates shake and greatly improves repeatability as this video shows. Please see https://www.youtube.com/watch?v=3wG0MeiJ-yE. The video would seem to imply a repeatability of 0.01mm but we are sticking with 0.2mm in the spec. The motor specialist was able to tune the motors from the other side of the pond. My first reaction when we put power on and entered the first commands was to jump back in amazement (and maybe an expletive). Tip speed is now 3m/s; that's 3 times as fast as its nearest competitor yet costs half the price. I love it when a plan comes together.