RIA, AIA and MCMA at Highest Levels Ever
(Ann Arbor, Michigan, USA - April 29, 2016) - Today the Association for Advancing Automation (A3), the global advocate for the benefits of automating, announced a new record level for membership. A3 is the umbrella group for Robotic Industries Association (RIA), AIA - Advancing Vision + Imaging and Motion Control & Motor Association (MCMA). As of the end of April 2016, RIA now has 392 company members, AIA has 342 members and MCMA consists of 211 members.

"We are gratified that so many companies around the world place their confidence in A3 and its member associations to help them achieve their goals," said Jeff Burnstein, President of A3. "Across the three associations we are now 945 company memberships strong. It's a great time to be in the robotics, vision and motion control and motors industries as more companies realize how important it is to automate their operations in order to compete globally."
Recent highlights for AIA, MCMA and RIA include:
• AIA's flagship tradeshow, The Vision Show, is expected to draw record attendance in Boston on May 3-5, 2016. The show is now in two halls: Hall A will contain emerging technology, vision applications, and collaborative robots, and Hall B will showcase the traditional vision and imaging exhibits. The show runs concurrently with a full educational conference throughout the week.
• RIA is hosting its International Collaborative Robots Workshop in Boston on May 3-4, 2016. Held in conjunction with The Vision Show, over 200 attendees will explore the hottest topic in robotics today, focusing on collaborative technologies, applications and safety implications.
• A3 is in the process of expanding its presence in Mexico in order to support the growth of the automation industry there. A3 will be hosting a reception in Mexico City in conjunction with ExpoPack on Wednesday, May 18, 2016.
• AIA recently released its Certified Vision Professional Online Training center, where users can take the Basic and Advanced courses online, then conveniently schedule an in person exam.
• MCMA will hold its MCMA Technical Conference October 11-13, 2016 in New Orleans featuring three tracks of practical training for engineers and end users.
• MCMA will launch its Certified Motion Control Professional training and certification in conjunction with the MCMA TechCon in New Orleans.
• AIA is committed to providing users across the globe with resources to help educate, integrate, and deploy vision technology. The second installment of AIA's Canadian Machine Vision Conference will take place in Vancouver, BC, Canada from October 18-20, 2016.
• RIA's annual National Robot Safety Conference is scheduled for October 17-19, 2016 in Cincinnati, OH. This annual event examines key issues in robot safety and provides an in-depth overview of current industry standards. Another International Collaborative Robots Workshop will be held in Cincinnati on October 20, 2016.
About Association for Advancing Automation (A3)
The Association for Advancing Automation is the global advocate for the benefits of automating. A3 promotes automation technologies and ideas that transform the way business is done. A3 is the umbrella group for Robotic Industries Association (RIA), AIA - Advancing Vision + Imaging, and Motion Control & Motor Association (MCMA). RIA, AIA, and MCMA combined represent some 945 automation manufacturers, component suppliers, system integrators, end users, research groups and consulting firms from throughout the world that drive automation forward. For more information, please visit our websites: A3, RIA, AIA, MCMA.
Featured Product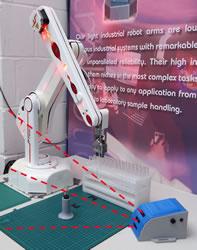 The 6-axis version of the R17HS high speed variant of the R17 robot is now available. As is our policy the 6th axis is an optional bolt-on module. At the same time we have made it even faster and new software eliminates shake and greatly improves repeatability as this video shows. Please see https://www.youtube.com/watch?v=3wG0MeiJ-yE. The video would seem to imply a repeatability of 0.01mm but we are sticking with 0.2mm in the spec. The motor specialist was able to tune the motors from the other side of the pond. My first reaction when we put power on and entered the first commands was to jump back in amazement (and maybe an expletive). Tip speed is now 3m/s; that's 3 times as fast as its nearest competitor yet costs half the price. I love it when a plan comes together.