ST Robotics partners with RobotShop, SuperDroid Robots, and other new system integrators and representatives throughout North America.
FOR IMMEDIATE RELEASE

ST Robotics Announces Strategic Distribution Partners in North America
PRINCETON, NJ - May 25, 2016 - - ST Robotics is pleased to announce new distribution agreements with RobotShop and SuperDroid Robots to deliver its low-cost, easy-to-use ST R Series articulated and cylindrical robot arm systems across North America.
"We are excited about our new collaboration with RobotShop and SuperDroid Robots which will allow us to provide the ST robot systems to a wider range of clients and improve automation solutions throughout the United States and Canada," said David Sands, President and CEO of ST Robotics.
ST Robotics continues to expand in North America via additional strategic partnerships with experienced and proven systems integrators and representatives, including: A&H Technology, ARY Automation & Control, DC Controls, MicroDISC, Upstate Technical Equipment, and Uniforce Sales and Engineering.
ST Robotics, widely known for 'robotics within reach', has offices in Princeton, New Jersey and Cambridge, England as well as offices in Asia. One of the first manufacturers of bench-top robot arms, ST Robotics has been providing the lowest-priced, easy to program, ready-to-go, boxed robots for 30 years. ST's robots are utilized the world over by companies and institutions such as Lockheed-Martin, Amazon, Motorola, Honeywell, MIT, NASA, Pfizer and Sony, to name a few. The numerous applications for ST's robots benefit the manufacturing, nuclear, pharmaceutical, laboratory and semiconductor industries.
For additional information on ST Robotics, contact:
sales1@strobotics.com
(609) 584 7522
www.strobotics.com
For press inquiries, contact:
Joanne Pransky
World's First Robotic Psychiatrist®
drjoanne@robot.md
(650) ROBOT-MD
Featured Product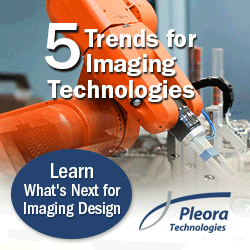 Technology development moves at a dizzying pace and the machine vision industry is no exception. Specific to imaging there is consistent innovation aimed at improving efficiencies, costs, and intelligence. Over the past 12 months, for example, new USB3 Vision™ products have driven the design of higher bandwidth, plug-and-play solutions for imaging applications. What's next for machine vision? This article examines five trends that are expected to influence imaging system design. Sign up at right to receive news and updates on the latest vision technology for medical imaging and you'll receive Five Trends for Imaging Technologies free!