This space efficient package also provides uncommitted I/O for easy integration into any EtherCAT application.
Galil Motion Control introduces the DMC-52xx0 EtherCAT master, Galil's first 32 axis motion controller. This new addition to Galil's EtherCAT family is a pure EtherCAT controller with the ability to control up to 32 drives and 2 I/O modules. This space efficient package also provides uncommitted I/O for easy integration into any EtherCAT application.

The DMC-52xx0 is offered in 2, 4, 8, and 16 axis formats (32 axis coming soon). Coordinated moves can be done within banks of up to 8 axes allowing for minimal changes of Galil's programming language. The DMC-52xx0 operates in Cyclic Synchronous Position mode (CSP). In this mode, the servo control loop is closed on the EtherCAT drive while the Galil controller sends motion profile commands at a rate of 1 kHz. Galil supports a host of EtherCAT devices for virtually any application. See the list below for more details.
Designed to solve complex motion problems, the DMC-52xx0 can be used for applications involving jogging, point-to-point positioning, position tracking, contouring, linear and circular interpolation, electronic gearing, ECAM and PVT. The DMC-52xx0 makes configuration and programming easy with just a handful of EtherCAT configuration commands and Galil's intuitive, two-letter programming language.
The DMC-52xx0 comes with one Ethernet port for communication with a host PC and one EtherCAT port to communicate with EtherCAT drives. Multiple EtherCAT drives can be linked together in a daisy chain configuration and connected to the controller's EtherCAT port, simplifying wiring and decreasing setup time. One USB port is also provided for alternative communication with a host PC. The DMC-52xx0 is packaged in a compact metal enclosure measuring 9.75" x 5.00" x 1.60" and is powered by a single 90-250 VAC supply.
Featured Product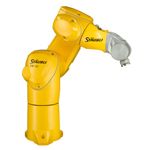 Stäubli offers a complete range of robotic tool changing systems for payloads of 20 kg to 1,530 kg and torsion moments from 30 to 12,500 Nm, designed for use in virtually every industry. The tool changers adapt to customer-specific applications with different modules for media, data, power, etc. The new MPS 130 robotic tool changer is powerful, very robust, and designed for a huge range of applications. It features multiple couplings for air/vacuum connections, and can be equipped with connectors for data and electrical transmission. Very compact dimensions, with a coupled height of only 67 mm, make the MPS 130 the first choice for applications requiring a high number of mating cycles.