Real-time traffic alerts bring us closer to autonomous, beyond-visual-line-of-sight flights for drones
AirMap, the world's leading airspace management platform for drones, announced today that real-time traffic alerts are now available to anyone who uses the AirMap platform. Real-time traffic alerts provide live updates to drone operators about the position and trajectory of manned aircraft in the local environment, enhancing safety and situational awareness for drone operators.

With this release, real-time traffic alerts are now available to the hundreds of drone innovators and app developers who use AirMap's airspace APIs and SDKs; to the millions of drones that are powered by AirMap's integrations with leading drone manufacturers; and to anyone who downloads the free AirMap app for iOS and Android. Developers and manufacturers who use AirMap's family of APIs and SDKs will have the option of integrating real-time traffic alerts into their applications and technology.
In the AirMap app for iOS and Android, manned aircraft are represented by grey flight symbols within their map view. The app also notifies operators with an audible sound and visual alert (a yellow flight symbol) when a manned aircraft is within 45 seconds of the drone's flight area. Drone operators can view each manned aircraft's position, tail number, and how soon it will enter the drone's flight area. (You can see Real-Time Traffic Alerts in action at https://vimeo.com/181734070/4d03351f92)
"AirMap is excited to open real-time traffic information to the entire drone ecosystem," said Ben Marcus, CEO of AirMap. "Real-time traffic alerts will help today's drone pilots make safer flight plans and improve in-flight decision-making. This is a critical step towards more autonomous, beyond-visual-line-of-sight flights for the drones of tomorrow - and lays the groundwork for millions of drones to fly billions of flights in the very near future."
ABOUT AIRMAP
AirMap is the world's leading provider of airspace information and services for unmanned aircraft, commonly known as drones. Developed by experts in drone technology, aviation, and policy, AirMap's cutting-edge technology transforms airspace below 500 feet to create an interconnected drone ecosystem. AirMap provides accurate, reliable, and trustworthy low-altitude navigational data and communication tools to the drone industry: inventors of drones & drone technology, drone operators, and airspace stakeholders. AirMap has a rapidly expanding global network of hundreds of partners and thousands of app users.
For more information, visit our website http://www.airmap.com or connect with us on Twitter at https://twitter.com/airmapio.
Featured Product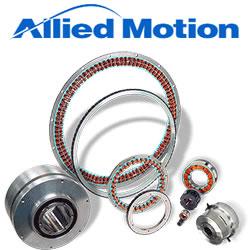 Allied Motion's Megaflux MFH170i series of 170 mm (6.7 in) diameter housed brushless torque motors consists of a high performance brushless DC torque motor, a digital servo drive, and an optical encoder, all integrated into a rugged machined aluminum housing with robust duplex bearings. The MFH0170i series features a 63.5 mm (2.5 in) large-bore through shaft, and is characterized by a very high torque-to-inertia ratio. There are three stack lengths in the series with peak torque ranging from 8.5 up to 16.9 Nm (75 up to 150 lb-in). The standard winding voltage is 48 V. And to ease the hassle of long leadtimes for prototypes, the new MFH170i is now available through our QuickShip program.