Smart Factory expo will be the first Expo for Industrie 4.0 / Industrial Internet Technologies for "Smart Factory" Industry.
Reed Exhibitions Japan Ltd., Japan's largest trade show organizer, will hold two new exhibitions from 2017, the 1st RoboDEX and the 1st Smart Factory Expo, taking place January 18-20 at Tokyo Big Sight, Japan.

Smart Factory expo will be the first Expo for Industrie 4.0 / Industrial Internet Technologies for "Smart Factory" Industry.
Next-generation factory where advanced FA, IoT and energy saving systems are installed. It realizes more efficient and cost-effective production with such systems. All kinds of technologies and solutions for smart factory will be exhibited! "1st SMART FACTORY Expo" will be a very business-oriented exhibition where exhibitors can actively have business discussions with visitors.
Held as part of the ROBODEX, AUTOMOTIVE WORLD, Japan's largest exhibition for automotive technologies, the two shows together will cover everything from automotive electronics and EV technology to smart manufacturing solutions, attracting increased industry attention.
Due in part to the five concurrent shows and more than 300 conference sessions co-held, 98,000 industry professionals are expected to gather from around the world. With hundreds of business meetings set to take place across the three days, the future looks bright for the ROBODEX and smart factory industry in Japan.
Major companies such as ADVANTECH , BALLUFF, DAIHEN,E-PLAN,FANUC,FESTO,HARTING,ISID,MACNICA
Motherson Sumi INfotech & Designs,MULTISOUP,NICHIDEN,P&F,RICOH,RITTAL,WAGO JAPAN have confirmed their participation.
All Global Companies in this domain are welcome to participate as exhibitor and or visitor to explore business opportunities Japan market has to offer in this domain.
Featured Product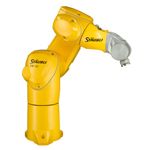 TX2 series of robots: the next generation of fast and precise 6-axis robots. This new robot range is redefining performance with the optimum balance of speed, rigidity, size and envelope. Those pioneer robots can be used in all areas, including sensitive and restrictive environments thanks to their unique features. Known worldwide for the quality of our design and innovation for more than a century, the Stäubli Group has brought its renowned engineering expertise and technological ingenuity to the forefront of robotics. Since 1982, we have built a highly regarded robotics business, and more significantly, transformed the way thousands of manufacturing operations perform. Today Stäubli Robotics is a leading player in robotics around the world, consistently delivering engineering as effective and reliable as our service and support.