The Internet of Robotics comes to life with KUKA Connect – KUKA's all-new cloud software platform that securely transforms robot data into insightful information accessible from any device at anytime
CHICAGO--(BUSINESS WIRE)--KUKA today announced its all-new cloud-based software platform KUKA Connect at the International Manufacturing Technology Show (IMTS) in Chicago.

Using the KUKA Connect platform, customers can easily access and analyze their robots' data on any device, anywhere at any time.
"KUKA Connect is an innovative platform that provides the proper foundation and building blocks for instant access to important data and characteristics of KUKA robots," said Andy Chang - Director of Product Marketing Americas, KUKA. "Through the KUKA Connect platform, customers can focus to bring products to market faster, adapt to regulatory requirements, increase efficiency, and most importantly, rapidly innovate."
Built on open global standards, KUKA Connect securely leverages cloud computing technologies and big data analytics to provide customers maximum visibility into their connected KUKA robots. With this visibility, customers are able to react and respond to information received and optimize their automation process.
KUKA Connect is a subscription-based platform that requires zero software installation and provides customers immediate access to new features and functionalities. This platform also enables an ecosystem of additional KUKA and third-party apps that further enhance the overall KUKA Connect experience.
Designed with the customer in mind, KUKA Connect's user experience was created with the goal of providing an easy-to-use, easy-to-navigate and customizable experience for each individual user. Leveraging the latest web and mobile technologies, KUKA Connect features a responsive user interface that allows administrative users to construct seamless workflows with easy accessibility to multiple layers of robot data.
KUKA Connect will be offered in two tiers of service: KUKA Connect Lite and KUKA Connect Plus.
KUKA Connect Lite
KUKA Connect Lite is a cloud-based software that provides customers the following features for supported functionality of KUKA robots, including:
Condition monitoring
Timeline with routine maintenance milestones
Robot Identification data
Controller identification data
Specifications
User manual
Administrative console
Searchable and sortable robot list
Language support for English, German and Chinese
KUKA Connect Plus
KUKA Connect Plus offers customers additional features and full accessibility of the KUKA Connect platform for supported functionality of KUKA robots. These features include:
Real-time robot state notifications
Real-time fault notifications
Exportable data reports
Enhanced timeline with real-time faults
Comprehensive event log
4-D visualization of robot
For more information, visit connect.kuka.com.
About KUKA ATX
KUKA ATX - KUKA's newest center of excellence located in Austin, Texas - specializes in leveraging state-of-the-art web, cloud and mobile platforms to augment KUKA robotics, customer experience and overall productivity. At KUKA ATX, software is brought to life by a team of software engineers, roboticists and product marketing experts to seamlessly connect KUKA processes, robots, people and services. In addition, KUKA ATX serves as the primary advisers of technical and strategic oversight for KUKA's U.S.-centric investments.
Featured Product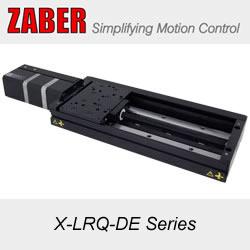 Zaber's new and improved stage (X-BLQ-E) is a closed-loop, belt-driven motorized linear stage with built-in motor encoder and controller. With travel lengths up to 3 m, 10 µm repeatability, and a maximum speed of 2.0 m/s, X-BLQ-E stages are perfect for rapid positioning over large distances. A built-in motor encoder allows closed-loop operation and slip/stall recovery, and an optional indexed knob provides manual control for operation without a computer. Like all Zaber products, the X-BLQ-E Series is designed for easy set-up and operation.