The ResMax 28 Brushless Motor's Unique Features Make It Ideal for Critical-Care Medical Ventilators
October 4th, 2016. -- Allied Motion announces the availability of a new high speed brushless motor engineered specifically for the rigors of medical ventilator duty.

The new 28 mm, 24 V ResMax 28 brushless motor is engineered to achieve very high speed (up to 90,000 RPM) with great dynamic responsiveness (0 to 50,000 rpm in only 20 ms, unloaded), exceptional operating life (30,000+ hours at 40,000 RPM average speed), maximal efficiency (up to 90%), rated power of 46 W, and the ability to operate in an oxygen-rich environment. The motor is equipped with integrated Hall-effect sensors to provide commutation information and a NTC thermal sensor to monitor motor temperature.
The ResMax's unique stator design provides it with highly effective heat transfer from the stator to housing, resulting in a low thermal resistance of just 1.2 °C per W.
The ResMax 28 also has an innovative rotor design with high magnetic material fill, possessing a very low inertia of only 0.5E-7 kgm2, giving the motor its low mechanical time constant of only 20 ms and high dynamic performance capability. In addition, superb balancing minimizes audible noise and vibration even at high speed (up to 90,000 RPM).
Although designed for medical ventilator and respirator use, the ResMax 28 is also ideal for any application benefiting from its high speed and high dynamic performance capabilities. Allied offers customizable electronic drivers for the ResMax 28 to tailor the combined package for specific applications.
For complete product details, visit our website at www.alliedmotion.com/customs/resmax.
For application assistance, contact the Allied Motion Solution Center that serves your area. Contact information is available on our website.
Featured Product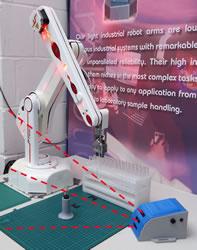 The 6-axis version of the R17HS high speed variant of the R17 robot is now available. As is our policy the 6th axis is an optional bolt-on module. At the same time we have made it even faster and new software eliminates shake and greatly improves repeatability as this video shows. Please see https://www.youtube.com/watch?v=3wG0MeiJ-yE. The video would seem to imply a repeatability of 0.01mm but we are sticking with 0.2mm in the spec. The motor specialist was able to tune the motors from the other side of the pond. My first reaction when we put power on and entered the first commands was to jump back in amazement (and maybe an expletive). Tip speed is now 3m/s; that's 3 times as fast as its nearest competitor yet costs half the price. I love it when a plan comes together.