Pioneer of collaborative robots showcases new cobot-assisted, mobile packaging applications featuring vision-guided kitting and parts inspection.
Ann Arbor, Michigan, October 19, 2016: Having a built-in safety system that enables a robot to stop operating if it comes into contact with an employee, has long been the defining feature of collaborative robots. Universal Robots has expanded the term "collaborative" to include user-friendliness, re-deployability and simple setup.

At Universal Robots' PACK EXPO booth N-5070 in Chicago November 6-9, Allied Technology LLC, a Preferred System Integrator of the UR cobots, will showcase a mobile packaging and palletizing application with a modular tabletop for quick redeployment. Using an intelligent part feeder and vision guidance, a UR5 robot will demonstrate a part kitting operation by picking and placing parts, packaging them into a box, and palletizing the completed assemblies.
"Universal Robots enable us to build applications that move away from fixed automation to flexible solutions that can easily be moved between tasks, effectively addressing the high mix/low volume production challenges of today," says Mike Halley, President of Allied Technology.
Parts inspection is another important task automated by UR cobots. Universal Robots' PACK EXPO booth is also hosting Preferred System Integrator HNJ Solutions exhibiting a system that integrates automated pick and place with quality inspection of high volume production, either picking parts coming down a conveyor or from trays full of finished parts awaiting packaging.
"In short we bring part of the quality lab to the production floor. Our Automated Cosmetic Inspection systems don't blink, don't have a sick day, and they provide companies with consistent results," says Greg McEntyre, CEO of HNJ Solutions. "The Universal Robot arms provide a means to keep the inspection flexible; customers can add new products to the system as needed and the arm can articulate through just about any product orientation requirement. The collaborative nature of the arm itself allows us to reach outside the machine environment and automatically handle components that are located near production line personnel."
Whether it is adjusting to seasonal lines, or to variation in co-packing lines, employees can teach the robot new moves as production schedules change. Using the teach pendant and moving the robotic arm, human coworkers simply change the movements of the UR robot without having to code or reprogram.
"We see a collaborative robot as a tool on demand as needed - one that can quickly be transitioned between packaging tasks to streamline production planning. Flexibility in manufacturing involves ability to deal with variation in volumes, design and material handling as well as variations in the process sequences. We look forward to showcasing these important capabilities at PACK EXPO," says Douglas Peterson, General Manager of Universal Robots' Americas Division.
Unlike investments in traditional robotic cells that are caged, pre-programmed and designed for a single purpose, the multi-purpose UR robot offers a lower threshold for investment and offers more possibilities over the life of the investment. The robot arms can be plugged directly into a wall outlet and are so easy to program and set up that the typical "out of box experience" is less than an hour. With more than 10,000 UR cobots now deployed worldwide, Universal Robots has a 60 percent share of the cobot market and has documented the production benefits in a wide range of packaging and palletizing case studies.
About Universal Robots
Universal Robots is the result of many years of intensive research at Denmark's successful robot cluster, which is located in Odense, Denmark. The company was co-founded in 2005 by the company's CTO, Esben Østergaard, who wanted to make robot technology accessible to all by developing small, user-friendly, reasonably priced, flexible industrial robots that are safe to work with and on their own can be used to streamline processes in the industry. The product portfolio includes the collaborative UR3, UR5 and UR10 robotic arms named after their payload in kilos. Since the first UR robot launched in December 2008, the company has experienced considerable growth with the user-friendly robots now sold in more than 50 countries worldwide. At just 195 days, the average payback period for UR robots is the fastest in the industry. The company, a part of Boston-based Teradyne Inc., is headquartered in Odense and has subsidiaries and regional offices in the U.S., Spain, Germany, Singapore, Czech Republic, India, and China. Universal Robots has more than 300 employees worldwide. Learn more at: www.universal-robots.com
Featured Product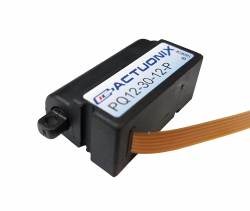 The PQ12-R series of linear servos are the smallest affordable linear servo on the market today. Small enough to fit inside a tic tac box, it's very powerful with a maximum force of over 11lbs. It operates as a direct plug-and-play replacement for standard rotary servos, using the same standard 3 wire connector. Regardless of how you drive your servos, be it with an RC receiver, an Arduino board, or a VEX micro-controller, the PQ12-R servo will function in place of a regular servo, but with the added benefit of providing linear motion. They're available in a 20mm stroke coupled with gear ratio options of 30:1, 63:1 and 100:1 cover a large variety of applications. Our PQ12 is popular used in a variety of robotics applications, medical devices, radio control and 3D printable bionic hands. Our PQ12 is proudly designed in Canada by our in-house team of engineers and thoroughly tested before leaving our facility.