Partnership augments CIMTEC's best-in-class automation component offering to the Carolinas and Virginia to boost product manufacturing quality and efficiency
Charlotte, NC, January 5, 2017 - CIMTEC Automation LLC today announced it has been selected as Universal Robots' distribution partner for collaborative robots serving the U.S. southeastern region. The partnership augments CIMTEC's already best-in-class automation components and will provide even more advanced automation tools to improve its customers' manufacturing quality and efficiency.

"We are excited about this new partnership with Universal Robots," said Dan Keenan, president of CIMTEC Automation. "Having built our reputation on providing state-of-the-art automation products and industry solutions, we are eager to bring this advanced robotic technology to our customers."
"We see a collaborative robot as a tool - one that can quickly be transitioned between automation tasks to streamline production planning. Flexibility in manufacturing involves ability to deal with variation in volumes, design and material handling as well as variations in the process sequences. We look forward to working with CIMTEC to bring these innovative tools to an even wider customer base in the Southeastern market," says Douglas Peterson, general manager of Universal Robots' Americas Division.
Having a built-in safety system that enables a robot to stop operating if it comes into contact with an employee, has long been the defining feature of collaborative robots. Universal Robots has expanded the term "collaborative" to include user-friendliness, the ability to quickly re-deploy, and simple setup. Whether it is adjusting to seasonal lines, or to variation in co-packing lines, employees can teach these robots new moves as production schedules change.
About Universal Robots:
Universal Robots, a part of Boston-based Teradyne Inc., is headquartered in Odense and has subsidiaries and regional offices in the U.S., Spain, Germany, Singapore, Czech Republic, India, and China. Universal Robots has more than 300 employees worldwide. Learn more at www.universal-robots.com
About CIMTEC Automation LLC:
Established in 1987, CIMTEC Automation has become one of the industry's largest, most progressive, responsive, and trusted automation engineering solution providers. The company's customer-centric philosophy and mission is focused on providing the best value and performance in innovative automation solutions to provide its customers with a competitive advantage in the global market. Headquartered in Charlotte, NC, CIMTEC has offices in strategic locations throughout North Carolina, South Carolina, and Virginia. Learn more at www.cimtecautomation.com.
Featured Product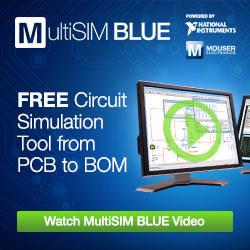 Powered by NI, MultiSIM BLUE Upgrade includes schematic capture, simulation, PCB layout, BOM-to-cart capabilities using only one tool. No more switching between different programs for circuit design. Perform MCU co-simulation. New voltage, current and power probes as well as faster active analysis mode are also available. Plus, it even comes with an expansive database of new components from industry-leading manufacturers. Discover why EDN named MultiSIM BLUE a HOT 100 Product of the Year.