Actuonix Motion Devices is proud to announce the release of their T16 series Micro Track Actuators. The T16 has been carefully engineered to push the boundaries of automation and affirms our commitment to leading the micro-motion marketplace.
Actuonix Motion Devices announces the launch of their new line of actuators, the T16 track actuator. The T16 has been designed to push the boundaries of linear motion and highlights the company's commitment to leadership and innovation in the micro-motion marketplace.

The T16 has been designed specifically to meet the growing need for smaller motion products in several industries including robotics, home and car automation, medical, aerospace and more.
"We're proud to announce the launch of our new T16 track linear acutators," said Actuonix's Marketing Coordinator, Mike Greig" These 18 new models bring our complete line of linear motion products up to 164 unique linear actuators. We strive to offer an affordable linear motion solution for every application."
Standard micro linear actuators are not an ideal solution for every application. By design, linear actuators are long as the shaft needs space to retract inside the device. Our new track actuators are shorter for the same amount of travel which will save you space in your project.
Linear track actuators also are better suited to applications where a side-load is present. Micro linear actuators are tolerant to minimal side loads, but some applications require more. This is why we developed the T16 series.
Currently, there are 18 new models of track actuators available. They're offered in 100mm, 200mm and 300mm strokes. The 300mm track actuator represents the longest stroke product that Actuonix sells. They are offered with the same gearing options as the P16 line, 22:1, 63:1 and 256:1. They're available as a P or an S series giving you several options for control.
Limited quantities of all 18 models are available at www.actuonix.com at this time. They will come back into stock regularly as they focus on ramping up production of the new units. They will be available in larger quantities this Spring.
With 18 new models available, you may find it challenging to choose the correct track actuator for your application. If you have any questions about this new line, or need help choosing the correct device for your needs, call or email Actuonix Motion Device's sales department, they will be happy to assist you.
Featured Product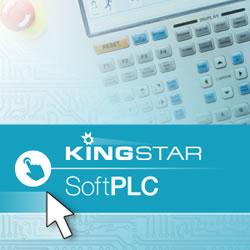 The top machine builders are switching from proprietary hardware-based PLCs, like Allen-Bradley, TwinCAT, Mitsubishi and KEYENCE, to open standards-based EtherCAT-enabled software PLCs on IPCs. KINGSTAR provides a fully-featured and integrated software PLC based on an open and accessible RTOS. KINGSTAR Soft PLC also includes add-on or third-party components for motion control and machine vision that are managed by a rich user interface for C++ programmers and non-developers alike.