The UK's longest running robotics company and partners win Innovate UK funding
London, UK: The Shadow Robot Company are delighted to announce that we have received funding from Innovate UK for a new project to create a demonstrator of a novel semi-autonomous teleoperation (SAT) system that is simpler and more intuitive than existing teleoperation technologies. The project launched on 1st March 2017 and will run for the next 13 months. We are delighted to be working with three prestigious partners: OC Robotics, Cambrian Intelligence and UCL.

The SAT project will use our world-renowned Dexterous Hand on the end of an OC Robotics snake-arm robot. Cambrian Intelligence will be using their expertise to create an augmented VR user interface, whilst UCL will be installing vision and testing the system on their hardware. We hope that the synergy created from such strong partners will see us build something uniquely innovative.
The main aim of the SAT project will be to create a system that provides an AR interface with a robot hand and arm attached, so the human can work at a higher level than direct teleoperation and tell the robot system what to do, not how to do it. We see semi-autonomous working as the future of teleoperation and therefore this project is the beginning of something huge for the industry.
Our MD, Rich Walker said 'What a privilege to work on a project like this. Teleoperation has always been an area we feel our Dexterous Hand works well in, and to work alongside such fantastic partners is really the cherry on the cake. We've got the opportunity to change the face of teleoperation and establish SAT as a safer, more reliable, more cost-effective solution to remote robotics'.
This will be a fresh approach to teleoperation and will see our deft Dexterous Hand move into an industrial application, and we're so excited by the possibilities of where this could lead. If you would like more information about the project or would like to get in touch about how it will work, please email contact@shadowrobot.com.
About the Shadow Robot Company: Shadow was founded in 1987 by a group of robotics enthusiasts in North London. Since then the group evolved into one of the longest running robotics companies in the UK. Shadow has been developing robotics technologies and using them to solve problems since its inception.
For the last ten years, Shadow has delivered exciting engineering projects for clients with outstanding work in Mechanical, Electronic, Software and Pneumatic Engineering. Our collaborations range from theatre projects with Leeds University and Museum Animatronics, to working with both NASA and ESA (European Space Agency) and universities throughout the world. Two recent projects include the award-winning TV program 'How to Build a Bionic Man' ('The Incredible Bionic Man' in the US) and the development of the ground-breaking Moley Robotic Kitchen.
Shadow is currently applying robotic manipulation technologies to a range of areas, from research robot hands through to applications in marine, logistics and agriculture. For more information, visit www.shadowrobot.com.
Featured Product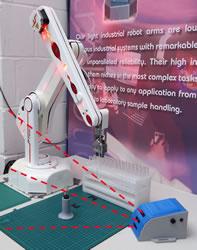 ST Robotics have decades of experience in industrial robots having sold hundreds of robots over the years. The company has 3 main models, R12, R17 and R19 all using a unique simple industrial technology that dramatically reduces costs resulting in the lowest priced industrial robots available. The same uncomplicated technology vastly improves reliability. ST backs this up with a 2 year warranty. Typical applications are routine testing, sample handling and also education. The software is a different paradigm from most robots. It is command based; you type a command and see immediate action. Programming is a building block approach, building confidence as you program in small 'mind-sized bytes'. ST offers free unlimited technical support.