Leading machine vision software now available for collaborative and industrial robots  
CHICAGO, Ill. (March 30, 2017) — Robotic VISION Technologies Inc. (RVT) has announced major updates to its eVisionFactory® (eVF®) software for industrial robot applications and the new Collaborative VisionFactory (cVF) software for collaborative robot applications. RVT is a leader in vision software for industrial applications with its eVF ® product line-up, and plans to add market driven applications in the collaborative space for all robot brands.  

eVF for industrial vision applications     
The RVT flagship product suite, eVisionFactory® (eVF®), is a leading machine vision software for industrial applications. With hundreds of operating locations controlling more than $500 million of revenue critical capital, RVT will present dozens of currently installed applications utilizing the diverse eVF® product line-up.  The eVF ® product lineup includes: Single Camera 3D, Random Bin Picking, Stationary Camera, Stereo Camera, Structured Light, Surround 3D, Tray Picker, Barcode Reading, CoBot, PartID/Line Tracking and Object Tracking.                                                        
cVF for collaborative vision applications   
Debuting at Automate 2017 is RVT's Collaborative VisionFactory (cVF), integrated on a Universal UR5 robot controlling an OnRobot RG2 gripper. Demonstrations for collaborative assembly, pick and place, handling and packaging will be on display on RVT's UR5 cobot.  Please go to http://roboticvisiontech.com/2017/03/28/robotic-vision-technologies-debuts-new-product-suites-automate-2017%e2%80%af/  
Focused on the Technology   
"Over the past several quarters, RVT has been developing and beta-testing a new and enhanced version of eVisionFactory®.  Throughout, key RVT customers have tested this new version and have enthusiastically accepted it. In fact, last summer eVF® 6.5.8 won a significant 3D vision accuracy and repeatability competition held by a major OEM. Exhibiting at Automate 2017, an important event in the automation industry, will mark the first public disclosure of all the work we have been doing. We are excited to provide the opportunity for people to compare our products to all others," RVT Founder and CEO Rick Weidinger said. "We will be using video to demonstrate current on-site installations of eVF and discuss our 10 vision guidance products. We will additionally have live UR5 cobot demonstrations at our booth."         
Visit Robotic VISION Technologies at AUTOMATE 2017 -----  Booth 761    
Both RVT Industrial and Collaborative product suites will be on display at the RVT Automate booth No. 761.   
 About Robotic VISION Technologies Inc.  
Robotic VISION Technologies Inc., a privately held machine vision technology company with complete 2D to 3D software vision solutions for state-of-the-art machine automation applications, is a recognized leader in the field of Vision Guided Robotics (VGR). eVisionFactory ® (eVF ®) is the brand name of the RVT vision guidance software platform and robot operating system that allows robots to "See, Think, and Do." RVT's software and technologies enable image recognition, machine vision, machine learning and robot guidance processes in industrial and non-industrial markets. RVT's main 3D vision product features the Henry Ford Technology Award-winning single-camera 3D software product in addition to its proprietary validation tools - AutoCal™, AutoTrain™ and AccuTest™. In addition, RVT has won the prestigious BAE Systems Chairman's Award for its technology and governmental work efforts. A sample of customers using RVT's products include Ford, General Motors, Chrysler, Honda, Toyota, Nissan, Harley- Davidson, Boeing and Johnson & Johnson. RVT's eVF® software platform is installed in hundreds of systems worldwide and operates every day controlling over one-half billion dollars of capital equipment. RVT's Technology Center & Robotic Lab is in Silver Spring, Maryland. RVT has secured agreements with Intellectual Ventures for invention growth and protection and selected integrators for field support.  
Featured Product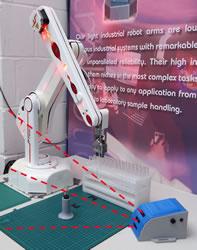 The 6-axis version of the R17HS high speed variant of the R17 robot is now available. As is our policy the 6th axis is an optional bolt-on module. At the same time we have made it even faster and new software eliminates shake and greatly improves repeatability as this video shows. Please see https://www.youtube.com/watch?v=3wG0MeiJ-yE. The video would seem to imply a repeatability of 0.01mm but we are sticking with 0.2mm in the spec. The motor specialist was able to tune the motors from the other side of the pond. My first reaction when we put power on and entered the first commands was to jump back in amazement (and maybe an expletive). Tip speed is now 3m/s; that's 3 times as fast as its nearest competitor yet costs half the price. I love it when a plan comes together.